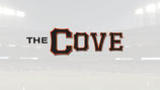 You know the story by now.
Melky Cabrera was busted for PED use this summer, tried to skirt his 50-game suspension by building a fake supplement supply website, and then walked out on his Giants teammates without apologizing or saying goodbye after his plan was foiled.
But hes very talented.
And thats all that really matters this winter to MLB clubs looking to improve their odds of success in 2013.
According to national baseball columnist Joel Sherman of the New York Post, at least five teams have expressed interest in the free agent outfielder over the past couple of weeks.
The Phillies and Mets have already been suggested as potential suitors.
READ MORE AT HardballTalk.com