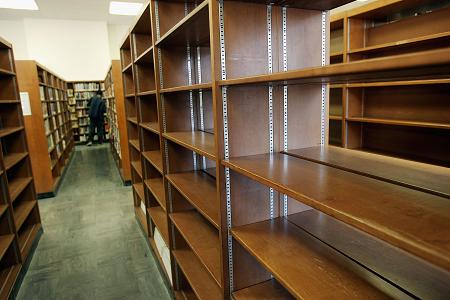 Construction is underway on San Diego's new central library, a nine-story, $185 million facility in the city's downtown. By the time it opens its doors in July 2013, it will already be an anachronism.
Indeed, the new library will start out with a collection of more than 1.2 million volumes, according the San Diego Public Library Foundation, with ample space for that collection "to grow by more than 60 percent."
But building a 497,652 square foot, mid-rise facility to be a book repository is so 20th century. In the 21st century, school children and adult book aficionados can have access to millions of volumes on an e-book reader.
Borrowing an actual hardcover (or softcover) book from a library is like renting a movie from the video store or buying an album from the record store. It's very old school.
That's why Blockbuster, the movie rental chain, is slouching toward bankruptcy. That's why Tower Records went bust.
What business person in his or her right mind would think about opening a bricks-and-mortar video store in competition with cable companies and satellite providers offering in-home movies on demand?
What business person would open a music store, selling CDs, in competition with ITunes?
Well, it's no different in building a library to house a million to two million books – not to mention hundreds of magazines and newspapers – in the age of Kindle and the Ipad.
Only the public sector would spend $185 million on a project that's ten years (if not more) behind the curve. That's why I found intriguing last week's post by my Prop Zero colleague Joe Matthews suggesting that it might not be such a bad thing to get the private sector more involved in running public libraries.
Indeed, a private company, Library Systems & Services of Germantown, Md., already is managing more than three dozen public libraries here in California, including the 33-branch Riverside County library system, three Shasta County libraries and the Moorpark City Library.
Among the services LSSI offers local governments is library design and utilization. Had the private company consulted with the city of San Diego, local officials may have found that they could have provided local residents a new state-of-the art central library requiring far fewer than nine floors, far less than 497,652 square feet and far less than $185 million.