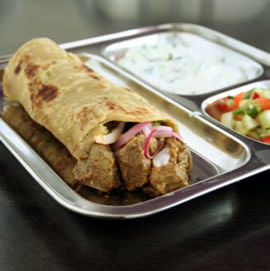 The Marina outpost of the Castro's famed Indian burrito spot is close at hand.

It's featuring the same face-stuffing options (buttery kati rolls stuffed with lamb curry, chicken tikka masala, etc) but in a space 50 percent bigger, with a large communal table, a curving counter that spies the open kitchen, and wooden two-tops and banquettes.

In addition to Kasa's four draft beers (for example Triple Karmeliet, PBR), this location's got six vinos selected by Saison's sommelier and pitchers of "Indian Sangria," made with fruit, wine, and far-Eastern spices (if you pay attention, you can totally make out the sweet notes and smooth dance moves of Honoring Your Ancestors Spice).

Great news: it's open until 2 a.m.; scope the menu at KasaIndian.com. Kasa II opens Friday at 3115 Fillmore St., between Filbert and Greenwich in the Marina.