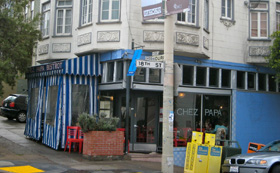 In October, Lingba got city approval to open a taqueria in the vacant shoe store next door on Connecticut Street.
Of course, in December, Lingba got some bad, shutter-y news that effectively nixed their taqueria expansion idea in the process. However, now comes word that Lingba offered the taqueria project to the Maktub Group (Chez Papa, Chez Maman, Pizza Nostra), and the French group is going full steam ahead with it.
The name for the concept is Papito (Nopa, your thoughts?), and it will be an organic taqueria.
According to sources, the space is still a shell of a shoe store, but the Chez Papa folks are hoping to have it up and running in two months or so, and possibly as soon as mid-February.
Copyright EATER