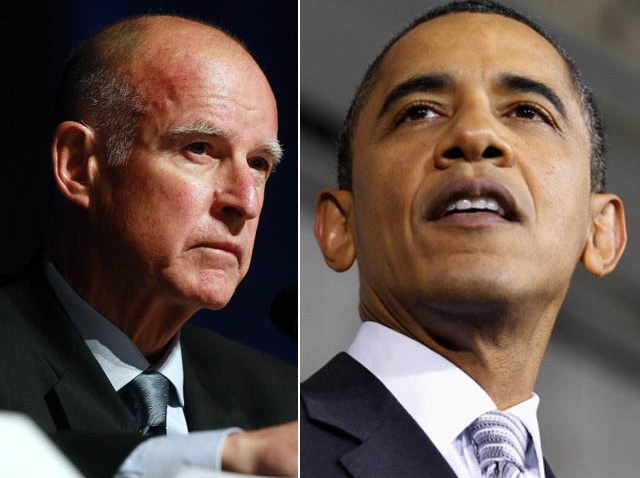 Once and future Gov. Jerry Brown is, for now, determined to avoid specifics. During his Tuesday education and budget summit at UCLA, he worked hard to avoid blaming anyone in particular for the state's fiscal crisis -- and he avoided offering particular budget-balancing solutions.
So it stood out when Brown made several pointed and critical comments about one entity: the federal government.
The governor-elect cited the feds a half-dozen times as major contributors to the budget crisis. He fingered the new tax cut deal between President Obama and the Republicans for changes in the estate tax that could add $2.7 billion to the California budget deficit. He noted the cost of the country's foreign entanglements and its deficit borrowing. He twice repeated that implementation of President Obama's landmark health legislation would cost the state of California an additional $3.5 billion a year. He lashed out at the federal courts for orders that mandate spending. And he took a swipe at federal formulas for health and human services program that force the state to spend more money.
Brown didn't mention President Obama by name, but the criticism of the tax cut deal, the mention of foreign wars and deficits, and especially the health legislation sent the message: the president's administration is in part to blame for the fix the state is in.
Could Brown be more pointed and personal about Obama in the future? Maybe, and if he were, it might be good for California. Gov. Schwarzenegger has sought more money for California over the past two years by making nice with Obama, and presenting himself as a valuable and rare Republican ally for the president's agenda on the stimulus and health care.
But being nice didn't get Schwarzenegger much. As Congressional Republicans have recently demonstrated with their tax cut deal, politicians may be able to extract more concessions from Obama by fighting him than they can by befriending him. With the president in trouble among his liberal base, Brown, a Democratic governor of a Democratic state, might be able to get more for California from the feds by picking fights with the president. (He certainly couldn't get much less, as California remains a donor state).
And if past is prologue, it's worth noting: Brown has a history of public battles with the last two Democratic presidents (President Carter, whom Brown challenged in the Democratic primaries in 1980; and President Clinton, with whom Brown had a contentious relationship during the 1990s).
Who knows? California could be in the midst of a transition from a Republican governor who supported the Democratic president to a Democratic governor who may have reasons to tangle with the Democratic president. Keep an eye on the Brown-Obama relationship.