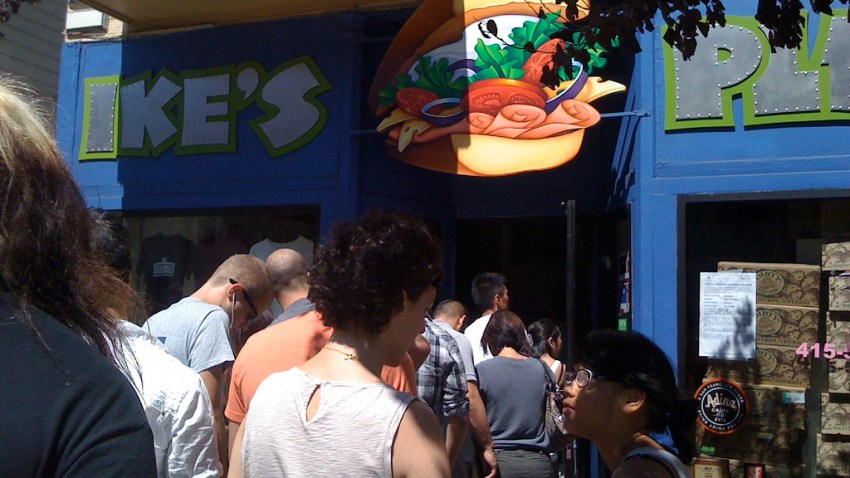 News from Ike Shehadeh of M.I.L.F.-vending, gooey sandwich nerve center, Ike's Place in San Francisco, has the popular sandwich restaurant with an actual court date and a ruling.
"Apparently some underhanded stuff is going on and Ike's Place has a court date this Tues at 9:30am at 400 McCallister Rm 301."
But things turned out okay for Ike's. SFoodie reports Ike got the outcome he was hoping for at Tuesday's trial. Ike's landlord now has to decide if he wants to go to trial or settle. So it's not over yet.
The early fear was if the landlord's motin was granted things could get ugly, according to ike himself.
"If this motion is granted Ike's Place would not get a chance to defend itself in court and Ike's Place would most likely have to close within 2 weeks. As of now, there is no space ready for an immediate Ike's Place move other than Stanford. Which, coincidentally, I just got the keys to Friday."
In late May, neighbors who issued a complaint that led to Ike's eviction, offered to ignore what annoys them (long lines, litter and noise) if the restaurant owner was willing to fork over $1 million worth of relocation money. The neighbors are currently living under rent control and moving would be very expensive, says their attorney.
The neighborhood complaint's about Ike's is nothing new. Earlier this year Shehadeh agreed to close his shop earlier to ease congestion on the neighborhood. But reportedly four neighbors were not appeased and threatened to sue the building's owner if something was not done.
If you'd like information on how to help Ike, Vegansaurus has all that information.
Eater SF contributed to this story.