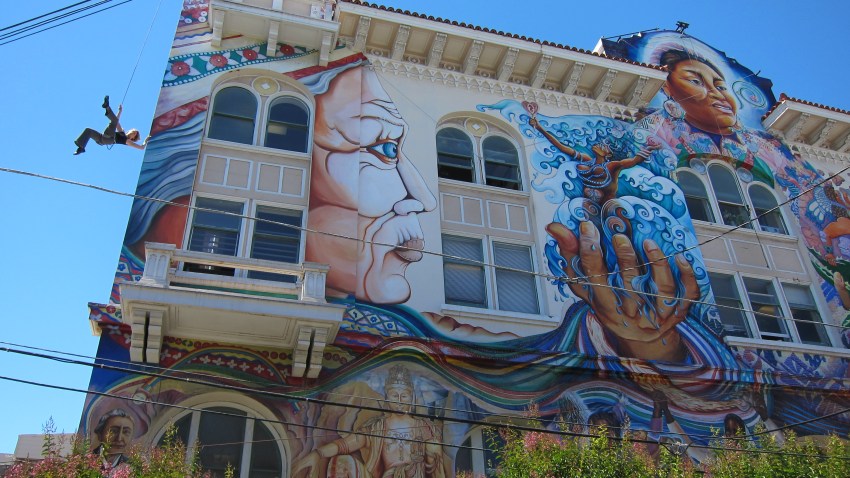 It's a bird, it's a plane, it's a woman walking on the side of one of San Francisco's most photographed buildings.

Flyaway Productions is rehearsing all summer for a dozen performances on the side of the historic Woman's Building, celebrating 100 years this year.

The Woman's Building is a historic five-story building on 18th Street between Valencia and Guerrero Streets that is covered in one of the most famous murals in the City, highlighting important women from different cultures and eras. In the 100 years the building has stood, it has always been a community space.

Choreographer Jo Kreiter has been winning awards for her female focused, off-the-ground, dance shows for 15 years now, but it wasn't until she saw that Barack Obama picked the Women's Building for a campaign stop in January 2008 that she thought, "Why have I never chosen the Women's Building?"

After two years of planning, "Singing Praises: Centennial Dances for The Women's Building" is now in daily rehearsals with five dancers (Mary Ann Brooks, Caitlin Beard, Jennifer Chien, Kelly Kemp and Alayna Stroud) floating above the passing tourists and Mission hipsters.

With crowds often gathering to watch the women work out their moves, Kreiter and crew decided to do a few special Thursday night curbside conversations on the creative process so people can get more plugged into what they are seeing.

Kreiter said, "It's a way to involve the audience in the process."

The special rehearsals start at 5:30 p.m. on Thursdays in August, with a half-hour rehearsal before the dancers, choreographer or musician field questions from 6-6:30 p.m.

Last week the first of three consecutive Thursday night curbside conversations highlighted the dancers and about 25 people watched with half-or-so staying for the Q&A.

Tonight Kreiter will field questions from the crowd and August 26 will focus on musician Jewlia Eisenberg (in collaboration with Charming Hostes, with Ava Mendoza).

Kreiter seems right at home on Lapidge Street, the one-block-alley she sits on the curb of, looking up at her dancers for around three hours each weekday, usually around 1-4 p.m.

"For some reason this little alley has brought a lot of creativity to it," Kreiter said. "A lot of the history of the building informs the [dance] piece."

The actual performances start Friday, September 10 and run through Saturday, September 18. There are 12 performances in all, and only two Thursday talks left.

Check their website for more information, or just walk on by and look up.