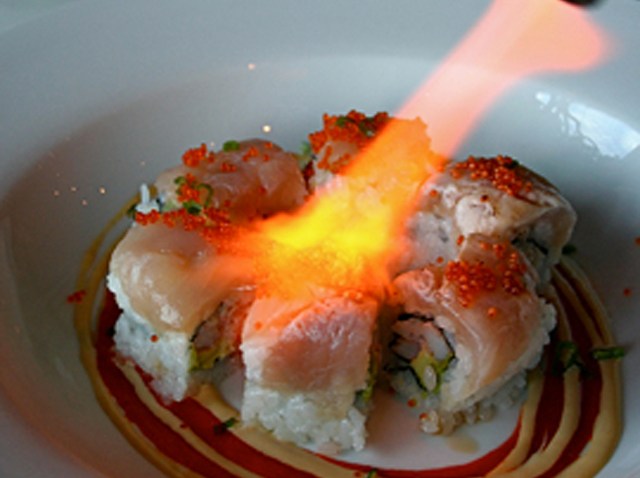 If you want to be noticed by the world, dropping your last name can be a very effective strategy.

Take for example Cher hitting the musical big time after shortening Cherilyn Sarkisian, and Carrot Top finally getting gigs after sagely switching over from Carrot Top Jones. Giving it a go restaurant-style, Deep.

San Francisco's Noe Valley's cozy Deep Sushi's dropped the confines of its last name to become Deep, freshly spruced up with a slick industrial edge (a raw steel sushi bar and stools, glossy cement floors).

Deep is now under the supervision of an ex-Plouf and Des Amis chef who is transforming what was once a sushi-heavy menu into one that's defined by Izakaya-style small plates that are diverse and playful, much like the puppy check-in at Ellis Island.

The delectable newness encompasses the likes of yuzu-vinaigrette-drizzled Hokkaido scallop carpaccio (with wasabi caviar), miso-marinated lamb chops, and skewers of Liberty Farm duck and scallions glazed in foie gras soy sauce, which is just about as Japanese as Travis Ishikawa.

They're still rolling up some bang-up Maki, which ranges from the yellowtail/shiso/grilled scallion "Shiso Sexy," to the yam and asparagus "Green Dragon," to the "UFO" -- a spicy, garlicy, California roll draped in albacore and speckled with tobiko that's blow-torched crunchy.

For now, Deep is in a soft opening phase, and won't have beer and sake until the liquor license goes through.

1740 Church St, near Day; Noe Valley; 415-648-3337.

Copyright Archive Sources