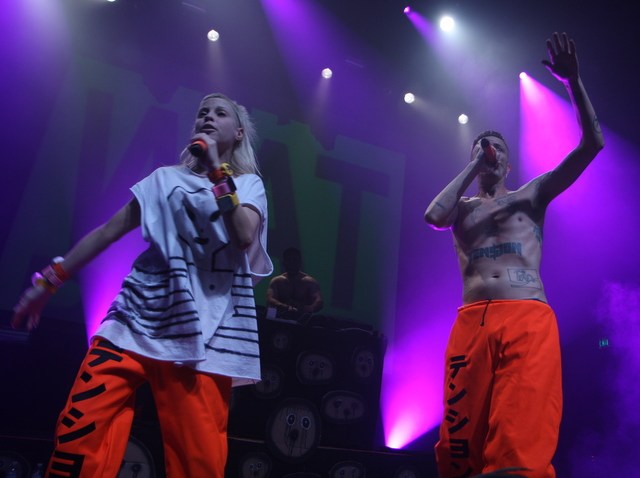 "Nelson Mandela, District 9, and Die Antwoord. That's the history. There's some other stuff that went down in between, but those are the important points," so says Ninja, front-man for South African Zef hip-hop group Die Antwoord about his band's place in South African history as seen by the rest of the world.
Many fans found Die Antwoord through their wild
music videos
on Youtube. A lucky few got to see their first U.S. performance at Coachella in 2010. A few months later, they came to San Francisco, played the Independent, Ameoba Records, and the Treasure Island Music Festival in a weekend supporting their debut album $O$.
Die Antwoord came back to San Francisco and played an incredible
Noise Pop show
at the Regency early in 2012, focusing more on their new album Ten$ion.
Ninja, Yolandi Vi$$er and a guy they claim to be DJ Hi-Tek stopped in San Francisco again for an afternoon performance at Outside Lands near the end of the summer.
This Friday, the trio are hitting Oakland for the first time, headlining Sonar On Tour, an international festival of advanced music and new media art out of Barcelona, Spain.
"Sonar was established as an annual festival in Barcelona in June 1994. Its founding principle was to blend artistry with entertainment, celebrate the av ant-garde and experimentation, and to explore the boundaries of electronic music and its cultural iterations. 2012 Sonar headliners included Fatboy Slim, Deadmau5, Hot Chip, Luciano, The Roots, James Murphy, Richie Hawtin, Lana Del Rey, Nicolas Jaar, Laurent Garnier and many more," according to their press release.
Die Antwoord sounds like a perfect fit to headline the festival, joined by Azari & III, Seth Troxler, Paul Kalkbrenner, Tiga, Gesaffelstein and Nic Fanciulli.
This is the first time Sonar has hit the road, with a 10-city U.S. tour playing Oakland on Friday, then wrapping up in LA on Saturday.
Tickets
are still available for the show, and cost $40-$50.