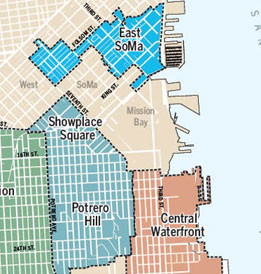 According to a new report on the economic impact of the Eastern Neighborhoods Plan, East SoMa, The Mission, Central Waterfront, and Potrero Hill -- all nabes whose lots are largely dedicated to light industrial use -- will be rezoned to accommodate new housing. No big news here, save for the fact that the properties could instead be used for 20 million square feet of office space and 116,000 jobs. Still though, according to the report, most office jobs can probably be located somewhere else in the city without too much of a problem. If there's anything to worry about here, it's the lack of light industrial spaces like garages and metal shops. For the sake of increasing residential density, losing offices and warehouse seems to be a risk the city's willing to take — and hey, there's still gotta be some room in South San Francisco.
· S.F. rezone plan seen as limiting future jobs [SF Gate]
· Curbed Explains: Eastern Nabes and "Light Industry" [Curbed SF]
· Brace, NIMBY's: Eastern Neighborhood Plan Approved Today [Curbed SF]For more stories from Curbed SF, go to sf.curbed.com.
Copyright CURBS