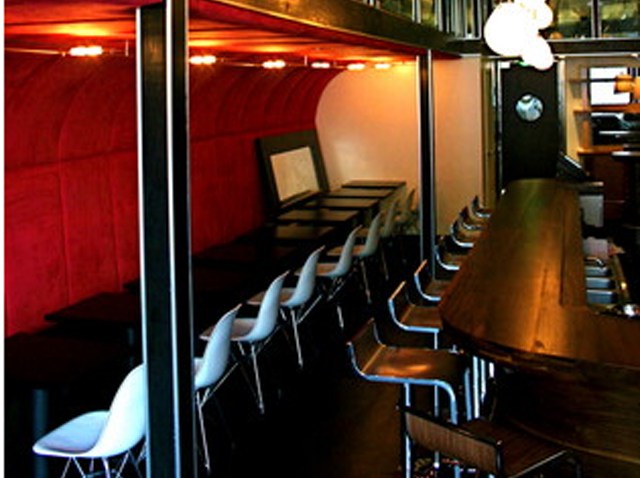 Slang can be an affectionate way to refer to the things one holds dearest, like calling your lady friend boo. Taste that slangy love, at Panam.

From the two Frenchies behind Choquets and Blush!, Panam's a "neo French fusion" resto-cum-late-night lounge whose name's slang for Paris in frog-speak.

It sits in the swanky, bi-level space where Frisee once was, and boasts ample mezzanine seating, a handsome, polished wood bar, and a calm, cream-ish paint scheme that's different than Frisee's in that it's not all red.

Kicking off the menu're titillating apps like duck ravioli with chanterelles in a porto raisin juice and truffle/thyme emulsion, a parsley-tempura frog leg persillade, and sunflower/salty guerand oil-aided fennel and French green beans.

The main meals are just as delectable, and range from the "Halibut Demi Sel" with artichoke and tomato/mizuna tartare, to the Muscovy duck breast with spaetzle and forest shrooms, to the braised salsifis/pearl onion-flanked "Chicken Gran-Mere," which spoils you, then your appetite, then falls asleep in the chair watching Murder She Wrote.

Washing it all down with a 50-bottle internationally sourced wine list. Also, after dinner service winds down, a paired down list of bar bites will be offered until 1 a.m. -- a sampling of late night treats guaranteed to make everything but your little friend much, much not littler.

The restaurant is opening next Wednesday at 2367 Market St., near 17th in San Francisco's Castro district.