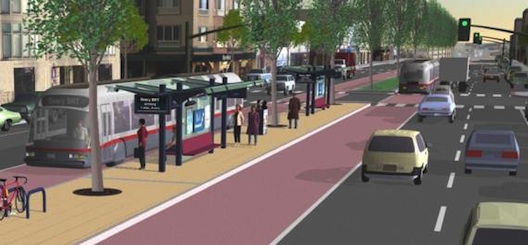 We missed this yesterday, but Streetsblog reports that the plan to set up a rapid-bus corridor along Geary is floundering in the deep end of the pool.
From the opponents' corner, there is of course, opposition, generally in the flavor of, "We're losing room for cars and parking." But even support from the generally transit-gung-ho side is begrudging at best: transit advocates have complained that the project is a poor man's light rail ("a train on rubber wheels"), and that it doesn't add bike lanes.
Without the bike element, says Streetsblog, the project lacks the kind of grassroot support it needs to build momentum, and that's worrying a few folks. Says a citizens advisory committee guy: "I look to the left, I look to the right, all I see is opposition and criticism." Rut roh?
Copyright CURBS