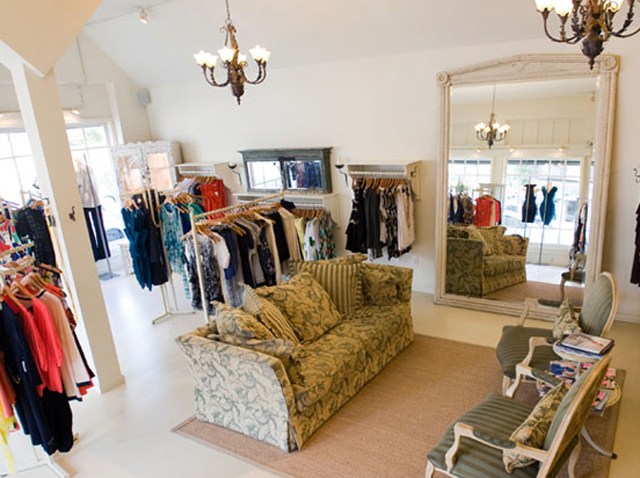 Another fabulous find on outer Sacramento Street is the very chic Sarah Shaw, a dress boutique in the truest sense of the word.

The term boutique has been tossed around for decades to describe a multi-mix of shops. But really, boutique is a term from the French word for retail store and more precisely, its connotation refers to an establishment that caters to the clothing and accessories desired by the women of society.

While San Francisco has its fare share of fashionable shops for the social set, Sarah Shaw is most assuredly up around the top of the A List.

The store's location goes hand-in-hand with the selection of sophisticated apparel. It's no secret that outer Sacramento Street draws the attention of affluent patrons from up the block as well as across the country.

Clients call on Sacramento Street for the perfect finds in several categories, from antique treasures to home decor as well as all that the world of fashion embraces.

The specific reasons for shopping at Sarah Shaw range from atmosphere to charm and then from attitude to elegance.

The well appointed light and airy interior of the boutique makes for a delightful experience. There is even ample room to turn and swirl in front of the oversized floor to ceiling mirror while choosing just the right frock or two.

The styles are carefully picked with consideration to form, fit and flair. The selection of silhouettes range from graceful and majestic to sassy and sexy.

Details includes ruffle, tulip and trumpet hemlines, so you can dance the night away with just the right dash of flounce.

When occasion-wear calls, Sarah Shaw is without question, a must-stop.

Sarah Shaw, 3095 Sacramento St. in San Francisco, 415-929-2990, www.sarahshaw.com
Lexie Quiring host personal shopping trips through the City. Visit ShopSFwithLexie for more information.