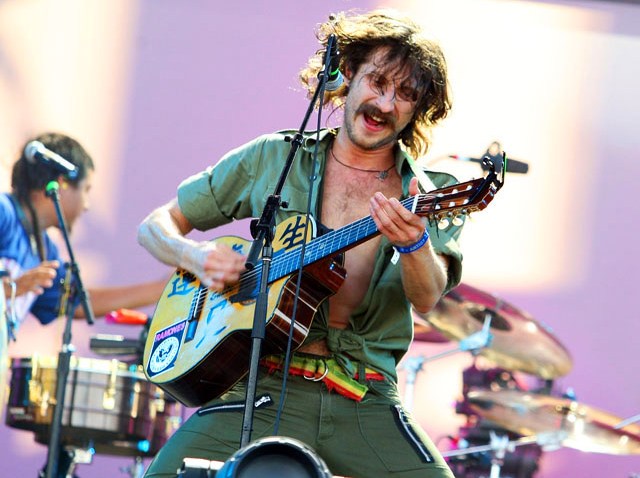 Dirty rumors plague Eugene Hütz wherever he goes.

Take one rumored shower in vodka before a show and all of a sudden the stories just grow. For the record it was Cachaca, better known as Brazilian rum.

"I prefer that," Hütz says.

And he also prefers to keep it real. Gogol Bordello has developed quite a following over the years, partly for the mustachioed Hütz's notoriously wild partying ways, but also because of the completely unique sounds of the band.

Hütz himself now lives in Brazil and his band mates are from all over the world. But they all have connections back to New York City and Hütz says they are an only in New York success story.
The group was formed in the burrows of New York City in 1999. Some members have come while others have gone but the band's sound has always stayed unique.
There are nine total members of the band who mix accordions, violins, guitars and more into their unique sound. It's that Eastern European influence on the clear punk underpinnings in their sound that have led some critics to call Gogol Bordello the most visionary band around.

That's why trying to attach adjectives to the sound that Gogol Bordello is putting out, would be like trying to pigeon hole the group as an adult version of "We Are the World" come to life.

"We really ain't tryin' nothing," Hütz recently told Synthesis about the bands diverse make up. "I think every artist that's being authentic will simply express what they're feeling inside. Our only difference is that we're comprised from different cultures. We have different backgrounds but our thinking is very unified."

Gypsy is the best way to describe them, even though Hütz may be the only official member of the often misunderstood and stereotyped Romani people.

Regardless their music is mostly upbeat, fast paced and hard not to tap your toes. Even if you don't know the words, Hütz works in choruses that make listeners bellow at the top of their lungs.

And the band's shows are a completely other story. The combination has won the band rave reviews, fans across the globe, invites to the world's largest festivals and a die hard following wherever they go.

Thursday, Gogol Bordello returns to the Bay Area with a performance at the recently renovated Fox Theater.