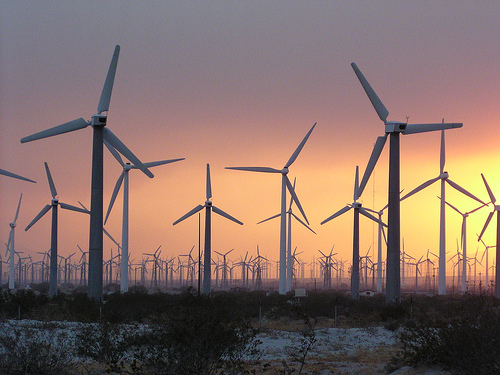 Google is investing $100 million in a wind energy farm in Arlington, Ore., the company reported today. The new report comes on the heels of last week's announcement the search titan was investing $168 million in a Southern California solar farm and another $5 million in a German solar farm.
The wind farm, called Shepherds Flat Wind Farm, will produce 850 megawatts and be the largest in the world, according to Rick Needham, Google's director of green business operations. The farm is scheduled for launch in 2012 and will be able to power 235,000 homes. It also uses new turbine technology that will increase efficiency and connections to the power grid.
The project is considered controversial in Oregon, where many find the wind farm's $1.2 billion in local, state and federal subsidies seems like a lot of taxpayer money for 35 permanent green jobs (the entire project will cost $1.9 billion.) If it seems odd, know that the counties involved will collect $100 million each year from the project's fees and taxes.
After realizing that taxpayers paid 65 percent of the bill on the wind farm, are you as impressed by Google's $100 million investment? Fast Company hypothesizes that Google isn't doing this out of philanthropy but for large amounts of energy it can use as it expands -- although it will probably sell off most of the energy at a profit.