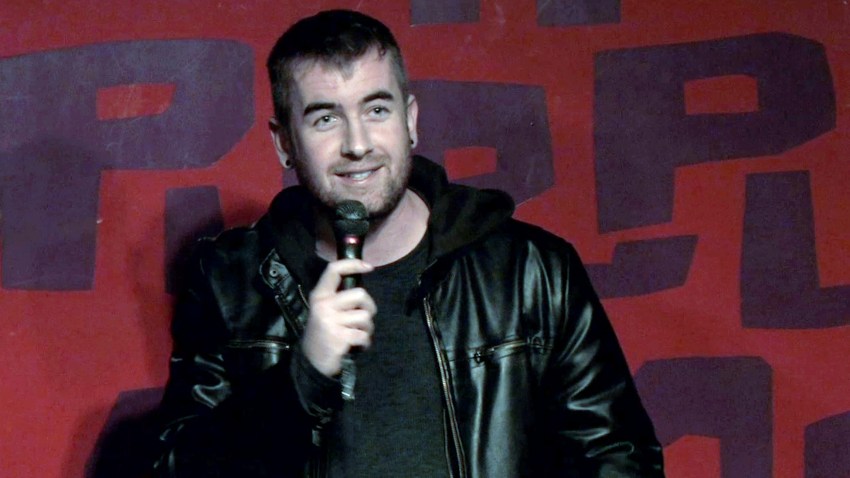 "So, how'd you get your own comedy show?"
It's a question San Francisco comic Eric Barry gets a lot. The answer is simple: he asked.
"I went to the owner and said, 'Hi, I want to do a comedy night. Do you want to do it?' He said, 'Sure.' It brings them more bar sales. There's no magic secret to it," Eric said.
Though the former Google employee has only been doing stand-up for about half a year, The Eric Show (Tuesdays at the Milk Bar, 1840 Haight) has attracted a loyal following and well-known comedians like James Adomian, Jamie Lee and Kaseem Bentley.
On April 24, Kaseem will be on the line-up along with Eric and 11 other comics for LOL for LLS, a benefit for blood cancer research. It's part of the Mr. Marina competition, of which Eric is a finalist—and something he entered as a goof.
Corey Andrew: Tell me about Mr. Marina.
Eric Barry: It's part of this organization called Slap Cancer. It raises money for the Leukemia & Lymphoma society. It's a tongue-in-cheek competition, poking fun at the Marina, but all in an effort to raise money for cancer research. A friend of a friend on Facebook posted this link. I don't live in the Marina, but I know all the stereotypes associated with the Marina. And doing comedy, I thought, 'I have to apply for this. This will be hilarious.' I'm really kind of doing it as a joke.
Corey: Could this also be a good way to get your name out there?
Eric: Yeah, I'm sure it could be. I debated whether adding that to my resume would help or hurt me getting a job someplace. They had 70 applicants, they picked 14 and I happened to be one of them. I wasn't expecting it to go anywhere, and now it has and there's been some negative press on it in the blogosphere. I've been very vocal about speaking up for it. It's a cancer fundraiser, you know? They're having a Mr. Mission as well.
Corey: Isn't it all in fun?
Eric: It is. They had a mixer the other night and I got to meet the other finalists. There's one guy who lives in the Russian Hill and myself and the rest all live in the Marina. I live in Lower Haight. They're all awesome, nice guys and everyone is doing cool events to raise money.
Corey: What sets you apart?
Eric: I think my creative background. You're scored on a Q&A in Marina-wear, a swimwear portion and a talent portion. I think some guys are gonna come in taking it fairly seriously and sport the best swimwear. And other guys are gonna make fun of the Marina stereotypes, thinking that's gonna be the funny, unique thing to do. My angle is just going to be earnestly funny, not having anything to do with the Marina. For the swimwear, I think a lot of guys will have Right Said Fred playing with their board shorts on, thinking that's the funny thing. I'm gonna come out in an old-timey 1920s bathing suit with ragtime music playing.
Corey: Don't forget the straw hat and a big beach ball.
Eric: For the Marina-wear portion, I'm gonna be holding a puppy. You have to say one thing that sells you, so I'm gonna say, 'He's a rescue, ladies.'
Corey: Where does your comedy come from, and why did you decide to go into it after being in the corporate world?
Eric: I've been a pretty big comedy nerd my whole life. My parents would put me to bed and I would sneak into their room and my dad would always watch David Letterman. I started a theatre company in college. After five years in the corporate world, I got laid off and did my own company. I said, 'This isn't working. Why not do something I'm actually passionate about?'
Corey: Your company, was that tech-based?
Eric: Yeah, it was a crowd sourcing site for advertising. We just never got funding. I took out $45,000 in loans and credit cards and now I'm figuring out how to pay that back. Comedy's not the answer!
Corey: Probably not. But at least you're following your dream. The comedy world has changed online in the last five-plus years. Is having a tech background helpful?
Eric: I won't say my tech background helps. It doesn't take too much to get a couple friends and a video camera and upload something to YouTube. I would say one advantage is my corporate background. A lot of comedians I meet, they're absolutely hilarious, but they talk about not wanting to market themselves or being bad at marketing. They look down on it as if your material should stand alone as-is and bring you all of your success. But, if you're telling the funniest joke in the world to yourself, alone in your basement, there's no audience to hear it. Marketing is such a huge, integral part of that. My business background has definitely helped a lot.
Corey: Speaking of marketing, how did you come up with the name of the show?
Eric: (laughs) Originally, it was called the Disagreeable Gentlemen Show. I thought that was kind of quirky. I quickly realized, first of all, it's too long. Twitter won't even allow you to have it as a handle. It's kind of clunky to type in, in terms of the URL. Everyone was talking about this great show, but they had no idea who I was. I wasn't really getting the credit that I was hoping I would for throwing the show and having some great comics on there. I still kind of cringe a little bit, but it's The Eric Show.
Corey: For the benefit, you're not charging admission, but accepting donations?
Eric: Comics and younger people who go to see comedy, they don't have a lot of money. I don't want to prevent people from coming to see the show. It's for a good cause. I'd like it to be known that's what the event is for and strongly encourage people to donate. We're not gonna turn people away.
Milk is also donating 10 percent of bar sales on April 24 to the cause. For more information, visit http://lolforlls.eventbrite.com/. Mr. Marina will be held on May 23 at Mezzanine.
Corey Andrew has been interviewing comedians and writing about comedy for the last decade and a half. In 2011, he published the book, "Laugh Lines: Conversations with Comedians." Corey was a writer and performer with Midwest sketch troupe, The NonProphets, before moving to the Bay Area with his family a few years ago. If you have ideas for future columns about comedy, you can send them to coreywrites@yahoo.com or follow him at twitter.com/coreywrites.