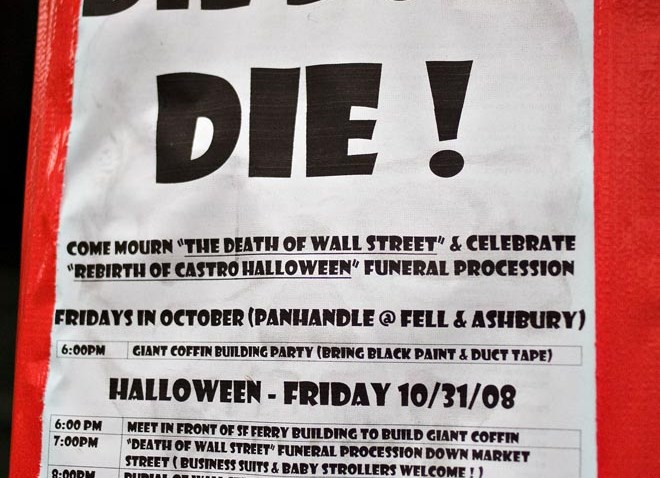 The city may be funneling tax money into a poorly wrought anti-Castro Halloween PR campaign aimed at keeping outsiders off Market come next Friday, but -- surprise! -- it, uh, probably won't work. Home for Halloween, with its clip-artsy graphics and primary colors, is kind of the antithesis of the debauched revelry that defines the holiday in SF. Does Gavin really expect the people to comply? Because maybe he should get out more... Word on the street is that the Second Annual Rebirth of Castro Halloween is well in the works. Thumb your nose at the city's questionable allotment of tax dollars for your questionable allotment of entertainment with the Rebirth funeral procession, rolling from the Ferry Building down Market Street to the Castro, starting next Friday, the day in question, at 7:00 p.m. The theme? Our current financial apocalypse, of course! Spooky.
· Wasted San Francisco Tax Money on Lame 2008 Anti-Halloween Campaign -- Again! [Akit's Complaint Department]
· Oh No -- It's the Rebirth of Castro Halloween! Die Dow Die! [SF Citizen]
· Home for Halloween: City Shoos "Outsiders" from Castro Party [Curbed SF]
· City Harshes Halloween's Mellow [Curbed SF]
· Halloween at AT&T Park: The Other Shoe Drops [Curbed SF]For more stories from Curbed SF, go to sf.curbed.com.
Copyright CURBS