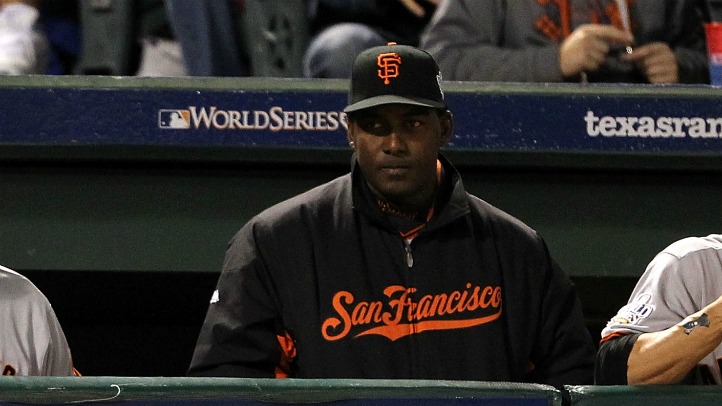 There's not a lot of long-term job security in being a major league hitting coach these days.
The Indians fired Jonathan Nunnally on Saturday afternoon after a recent hitting swoon had helped the Indians give back most of their big lead in the AL Central. He was the third hitting coach to get his walking papers this month after Thad Bosley of the Rangers and John Mallee of the Marlins. Mallee's departure did nothing to change the fortunes in Miami which is why Edwin Rodriguez is no longer the manager down there any longer.
So firing hitting coaches has suddenly become trendier than sexting, a development that has to make Hensley Meulens a little warier around the office than he was a few weeks ago. The Giants offense just keeps getting worse and only so much of it can be blamed on the fact that Buster Posey is injured.
Of course, there's only so much blame to send Meulens's way as well. It's not the Giants have a young team that needs a lot of instruction as to how you hit big league pitching. They are a veteran team with established ways of doing things and established levels of production. The hitting coach can point out when you're doing something wrong mechanically, but there's nothing he can do about a veteran slipping down the wrong side of the hill or a player who simply isn't a good hitter in the first place.
Still, there's only so long that you can watch planes fly into the sides of mountains before you try to make a change. That change might be cosmetic -- new paint on the wings! -- but it shows that you recognize that something has to be done to make things better. The Giants had some of the worst at bats you've ever seen over the course of the weekend in Oakland and watching much more of that isn't going to go over very well with anybody.
But firing a hitting coach coming off a World Series title when the Giants are still in first place? If that doesn't get you a grace period, then nothing will. The Indians and Rangers are both in first, though, and felt a move had to be made for the sake of the team.
All of this should have been prefaced with the point that there's no reason to believe that Meulens will actually be let go by the Giants. It's more about the trends moving through the game at a time when Meulens could have more to show for the work he does on a daily basis.
Something's got to give and sometimes that something is a scapegoat.
Copyright FREEL - NBC Local Media