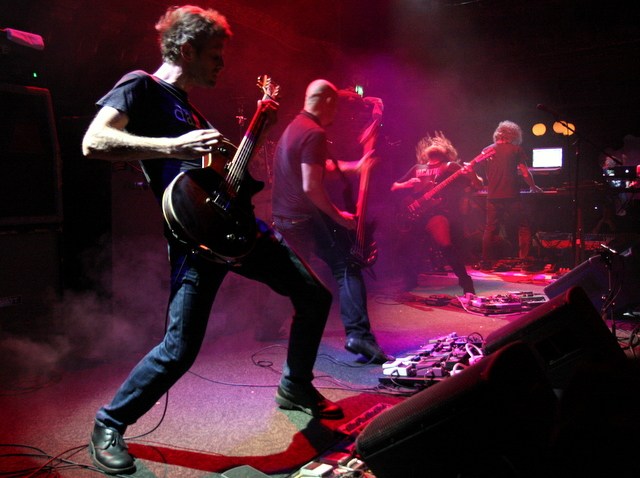 "We're treating every show as if it's our last. Because it is." Isis guitarist Mike Gallagher and bassist Jeff Caxide echoed the same sentiment after the first show of their farewell tour in San Diego.
The West Coast leg concluded in San Francisco and Los Angeles, before the band ends their 13-year run in Montreal, the city that hosted their first live show - appropriate that they've been ending shows with an Isis classic, "The Beginning and the End."
Isis is one of the few groups that can transmit a full range of emotions and visceral feelings through their music, rare in their style of metal. For that reason, I and many fans are sad to see them go.
Listening to a band evolve their earlier sound from something all-too-often compared to Neurosis to something more progressive, complex, and instrumentally rich that defies genre specification, is something to which fans have gotten attached.
Along with that comes a complimentary visual element, which is even rarer in the world of music - through artfully created album covers and shirts drawn and designed by singer Aaron Turner, limited tour posters by different artists, and a genuine appreciation of connecting their sound to something you can see.
The Great American Music Hall hosted the San Francisco farewell - "This is one of our favorite places to play, particularly this venue," said Aaron Turner; as he thanked the tour openers, Jakob and Tombs, and the fans that have supported them through their 13 years.
The show began with a psychedelic drone that brought the room into unified attention, before being pounded with the assaulting initial notes and shouts of "Threshold of Transformation" - an ideal opener, considering the theme of the night.
The band played with a go-for-broke ferocity and physical intensity that resulted in louder and heavier versions of songs that spanned their history.
This energy was felt by the crowd and given back to the band - fists pumping the air to the thunderous drums of the oldest song they played, "Collapse and Crush," fans shouting the lyrics to the closest song they've had to a single, "In Fiction," and an overall appreciation of the years of music they've created.
Even in LA, where audiences are particularly stoic, the crowd couldn't help but get into the music, head-banging and shouting almost as loud as the SF fans.
Of course, there were a few rude texting types on their cell phones - Aaron Turner called them out with a simple plea to put away the phones and feel the music they're playing one last time, and folks complied after realizing their lack of respect.
The band continued their final West Coast show, ending in what many described as the best they've ever seen them perform.
"Simply put, ISIS has done everything we wanted to do, said everything we wanted to say" - so states the farewell announcement on their website.
Each member has musical projects of their own to which they can now dedicate their energies, each with their own flavor that they previously brought to the band.
Even with the promise of these new beginnings, a unified sadness accompanied a simple and heartfelt "Goodbye" at the end of their SF and LA shows.
We lucky witnesses received the best performances that Isis had to offer. Yet one more reason to respect them and their body of work - leaving on a high note, with your fans wanting more, is the best way to end.