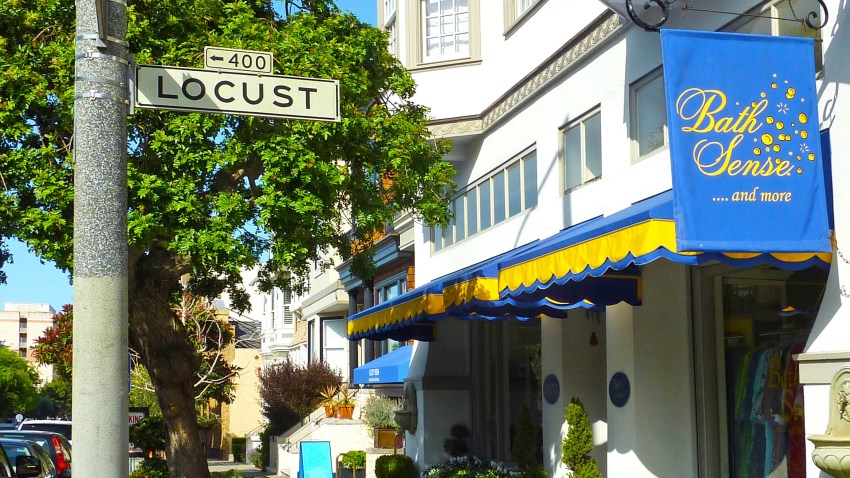 The attractive, eye catching sea-blue canvas awning marks the spot of Bath Sense located at the corner of Sacramento Street and Locust in San Francisco.

Outer Sacramento Street is one of the most elite shopping districts in San Francisco. It's an oasis within the City limits and offers a retreat from the pace of urban life.

Meander and stroll for blocks to discover dozens of amazing retailers along the way.

It's still an experience very remindful of days gone by when the skirts of residential neighborhoods were home to talented entrepreneurs who opened their fashionable boutiques and businesses without the intrusion of national or international business.

You will find many of these local merchants have settled right there on outer Sacramento Street.
And one of these "finds" is Bath Sense.

Bath Sense is so much more then just another stylish spa shop.

While it is obvious that owner Margaret Timrell specializes in bath products and personal accessories, the assortment is backed up with an array of sophisticated lux-life merchandise.

So, yes, Bath Sense is one stop shopping for scooping up all the goodies for self-spa-ing; aromatic gels, frothy soaps, fluid lotions, fizzy foams, softening oils, and the creamiest of creams.

But since this charming store encompasses and reaches out to the boudoir as well as the armoire in the boudoir, there are also plump pillows, practical eye-catching mats, cuddle-up throws and plush wraps to chose from. Two personal favorite headliners are Peacock Alley and Bedhead PJ's.

Margaret has successfully re-defined the assortments of personal primp and pamper products to include float, curl up, relax and enjoy.

Treat yourself to a shop-stop at Bath Sense.


Bath Sense, 3600 Sacramento St. in San Francisco - 415-567-2638 - www.bath-sense.com
Lexie Quiring host personal shopping trips through the City. Visit ShopSFwithLexie for more information.