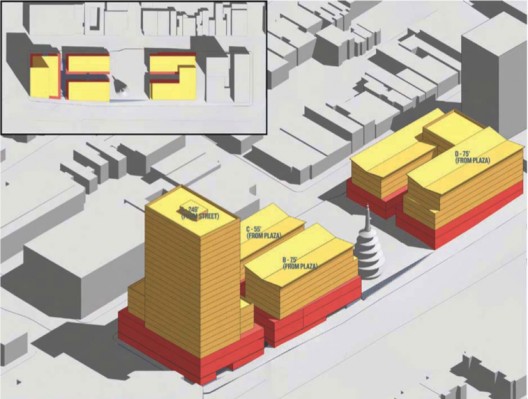 Japan Center
, perhaps funded in part by residential towers. Note first that owner 3D Investments has stated that because
a complete redo of the buildings
would be way too expensive, they're going to holding off for a while. Indeed, the plan agrees that no new development would be financially feasible within the next three to five years, but that if and when it does happen, a residential component would likely be needed to make any significant retail reconstruction financially viable. Their recommendation: interior upgrades and small improvements in the short term, with a "complete reconstruction" of the mall, Peace Plaza, and parking garage in the longer term. "The buildings, with their inward focus and blank walls facing the community's major pedestrian areas, are
not consistent with modern standards
for successful urban retail centers."
Does that sound fair? One community leader has his finger on the big WTF button. In a letter published on Akit's Complaint Department, he writes:
The plan also calls for increasing the building height of the properties on the Buchanan Mall and the North side of Post Street to 55 feet. This more than doubles the current height of the existing buildings. What this means is that once the Nisei/Sansei property owners pass on or leave the property to their kids, once they sell it, a new developer will tear down the property so that they can build up to 55 feet. We would entirely lose the character and feeling of Japantown. ... The original intent of this plan was to preserve Japantown. If this plan passes, we all will be responsible for the lost [sic] of not just one building this time but an entire community.
Akit agrees, referring to the "urban renewal" clusterf**k of the Fillmore that kicked out scads of African- and Japanese Americans: "Didn't the city learn a lesson from redevelopment 40 years ago?" Seriously, guys, will Sophie's Crepes make it out alive? But more seriously: how does this all end (or begin, as it were) on Akit's blog? Two words, all caps: "SAVE JAPANTOWN!"
Copyright CURBS