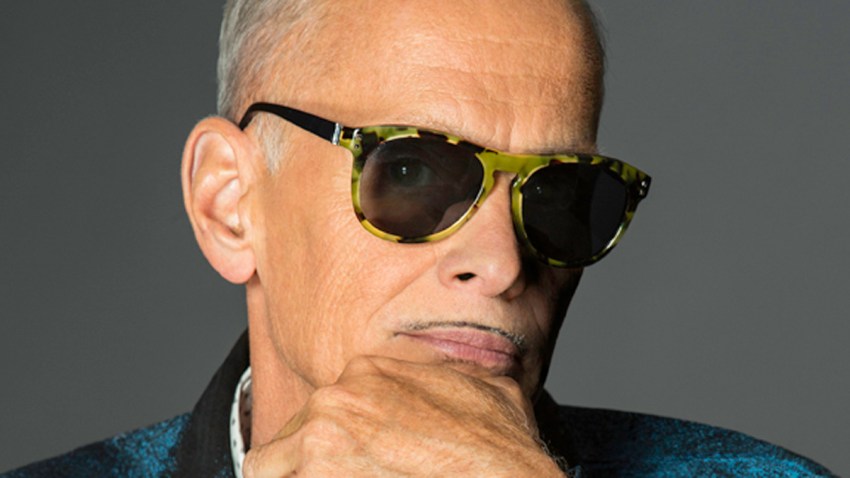 When John Waters treks from his home in Baltimore to San Francisco, he does it the old-fashioned way, with his thumb.
"I would recommend everybody hitchhiking again!" the writer-director of iconic films such as "Polyester" and "Hairspray" said.
It was for his next probable best-selling book that Waters decided to take a decidedly old-fashioned approach to cross-country travel. That tome will arrive in 2014, but Waters will be here for two shows at Yoshi's San Francisco on Saturday, Nov. 23.
"I've never played this club before, a good jazz club," Waters said. "I hope I can resist the urge to shoot up heroin before I go on. I don't do heroin, but what jazz musician doesn't? Jazz is the sound of heroin. If you see me nodding off, you know I found an old syringe somewhere."
Perhaps that's not the type of banter typically heard at the admittedly jazzy joint, but fans of Waters would have it no other way. In fact, his show is titled, "This Filthy World," and he promises that while it's completely scripted and memorized, Waters "upgrades" it for the city and venue in which it's performed. And because Waters owns a home in San Francisco, he'll have an informed opinion on the city—albeit a potentially controversial one.
"I think you have the best transit there," he said. "I can say, 'Your cat hates you,' and nobody seems to get that upset. I say you have a good transit system, and people say, 'He's gone insane!' I do ride the bus. People say, 'What are you doing on the bus?' Why wouldn't I be on the bus? They have great routes. I want to be the spokesman for BART.
"And the cable car goes right by my apartment. I feel like I live in a Rice-A-Roni commercial."
Waters' live show traces through his nearly-50-year career as a mondo weirdo moviemaker. His collection of oddballs and misfits were dubbed the Dreamlanders and co-starred in Waters' low-budget films like "Pink Flamingos" and "Desperate Living," flicks that found infamy and rabid fans via the midnight movie circuits. Waters' muse, female impersonator Divine née Harris Glenn Milstead, became an international superstar.
It's been nearly a decade since Waters' last film, "A Dirty Shame." "The business is not one I know anymore," he said. Waters has shifted his craft to writing acclaimed books and making interesting cameos, such as one in comedy troupe Lonely Island's music video, "The Creep."
"I get recognized everywhere for that," Waters said. "Have you seen how many hits that's had? Go on YouTube and see. You'll be shocked."
As of this writing, it's more than 78.6 million.
After Waters performs here (and hits some hipster bars on Valencia with friends), he's spending the holidays with family.
"I will take my 89-year-old mother to my sister's in Virginia, as we do every year," he said. "We go en mass to see whatever the new holiday movie is. It's hard in a little town in Virginia. I don't have a lot of choices. I'm mad there isn't a new Chipmunks movie, which I always want to go see."
Don't expect to see a 20-foot-tall, inflatable Alvin, Simon and Theodore adorning his San Francisco apartment this holiday season though.
"I only decorate the Baltimore one because I'm there for Christmas," he said. "I have a big party. I have a wreath made of sticker bushes that snag your outfit as you come in the door. We decorate the electric chair that was in 'Female Trouble' with Christmas lights. We really do it up."
While "This Filthy World" isn't his Christmas show, feel free to ask during the Q&A portion about Waters' view on jolly, old elves.
"There are a lot of unanswered questions about Santa," he said. "Is he a polar bear? Are the reindeer twinks? One was called Prancer. One would think."
Visit yoshis.com/sanfrancisco for tickets and more information about John Waters' "This Filthy World."
Corey Andrew has been interviewing comedians and writing about comedy for the last decade and a half. He recently published the book, "Laugh Lines: Conversations with Comedians." Corey was a writer and performer with Midwest sketch troupe, The NonProphets, before moving to the Bay Area with his family several years ago. If you have ideas for future columns about comedy, you can send them to coreywrites@yahoo.com or follow him at twitter.com/coreywrites.