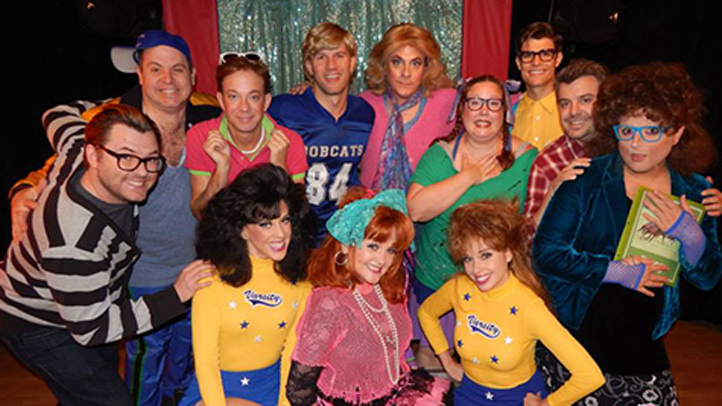 Social media is all a flutter this week since "Weird Al" Yankovic announced a world tour, but you can see the queen of '80s comedy music Saturday night as part of SF Sketchfest.
Julie Brown is bringing her successful "The Homecoming Queen's Got a Musical" to the Brava Theater, 2781 24th St., at 7 and 10 p.m. Saturday, Jan. 24. The stage comedy is based on her hit 1984 tune, "The Homecoming Queen's Got a Gun."
Turning a school shooting-related song into a full-blown musical came with its challenges, the subject matter being the main one, Brown said.
"We sort of padded the shooting on the parade float with more deaths," she said. "It's not like there's one horrible moment. There are several."
"We made it sort of an '80s horror satire," Brown added.
The song sees Julie's best pal, Debbie, taking out the cheerleaders and glee club with a machine gun, done in the style of a weepy '50s teen tune.
"The homecoming queen is played by Drew Droege. He's just genius. So the homecoming queen is a guy playing a girl. There are so many layers of non-reality in it," Brown said.
Brown wrote the show with Kurt Koehler who directed and cast it with clearly non-high-school-aged actors and comedians and cast herself as the lead, of course!
"I made my character the star. Her name is Julie. It's the same as the song, as it's kind of through my eyes, through my point of view," Brown said. "The character is a little Valley Girl-ish."
The Van Nuys native who belted out "Cause I'm a Blond" actually helped bring the Valley Girl character to the mainstream, thanks to her comedy albums "Goddess in Progress" and "Trapped in the Body of a White Girl," her meta MTV show, "Just Say Julie," and the movie she wrote, "Earth Girls Are Easy."
That flick, with its bubbly theme song and colorful extraterrestrials, seems ripe for the stage, and Brown agrees.
"Kurt and I had been working on that, but I got a job on a show, and he started casting 'The Middle.' So we had to stop. It bums me out. If it was up to me, this is all I would do," Brown said. "It is coming eventually."
Like her contemporary, Yankovic, Brown has continued to pen and record humorous ditties. Her Madonna documentary spoof, "Medusa: Dare to Be Truthful," has a rabid cult following, and she updated her Medusa parodies on the recent album, "Smell the Glamour."
Brown's debut at SF Sketchfest was last year when she reprised her starring role of Judy in a live read of Bobcat Goldthwait's red-nose epic "Shakes the Clown." Brown assured that her cast from "The Homecoming Queen's Got a Musical" will be more practiced than Goldthwait's troupe was in 2014.
"We didn't really rehearse. Bobcat didn't give us the scripts until like the day before. Bobcat was the worst!" she laughed. "It did have that quality of we're just up there goofing around. … That is so Bobcat's style."
Brown got permission from MTV to edit and release episodes of "Just Say Julie," which are available on DVD via her website at juliebrown.com. Visit sfsketchest.com for ticket info for all their shows. The three-week festival kicks off on Thursday, Jan. 22.