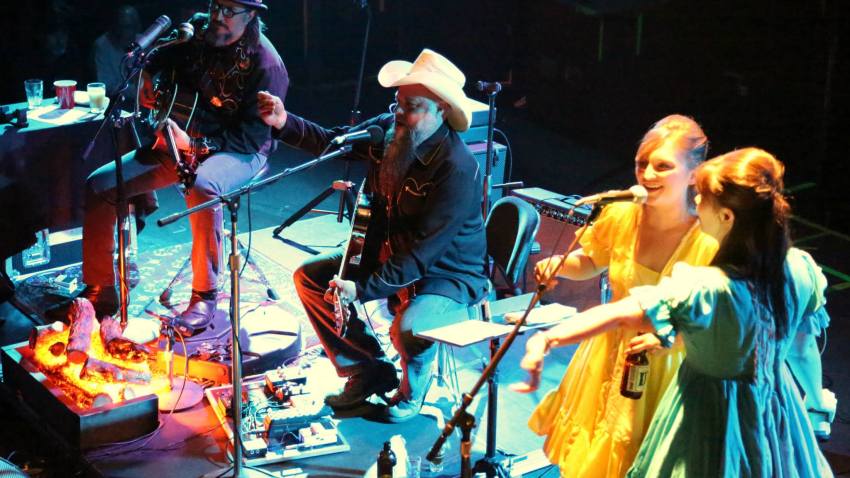 Les Claypool is finally poised for his first Duo De Twang SF club show, and it has been a long time coming.
The world famous Primus bassist front man, and Sonoma County wine maker/resident, first hatched the idea for his two-piece country act while trying to come up with something for the 2012 Hardly Strictly Bluegrass Festival.
Claypool and Limbomaniac guitarist Mirv did a warm up gig in San Rafael before playing a great, well received set at the free festival in the park, under the sun and Blue Angels who would occasionally scream by.
Since then, Claypool has switched out one M.I.R.V. band guitarist for another, inviting Bryan Kehoe along on a number of tours across the US.
The pair recently released their first album Four Foot Shack, a collection of old western tunes by people like Stompin' Tom Connors, Jimmy Driftwood and the Bee Gees. Well, "Stayin' Alive" didn't used to be a western tune, but with some Claypool meddling, it is now.
Also getting the Claypool twagify are songs like "Man in the Box" by Alice in Chains and a host of Claypool originals like "Wynona's Big Brown Beaver," "D's Diner" and "Jerry Was a Race Car Driver."
Les Claypool's Duo De Twang has played shows in San Rafael, Petaluma and Santa Cruz, but Saturday night will be the first proper SF club gig for the local pair, and there is no better place in SF than the Great American Music Hall.
Along for the ride for the majority of the touring have been the Reformed Whores, an awesome pair of ladies who look and sound more like they are from Nashville than Brooklyn. The comedy duo sings about important lady issues like birth control, dating and defecating. I heard their debut album Ladies Don't Spit before seeing them live for the first time and I was hooked, and pleasantly surprised to see that their show is even better. Don't show up late and miss out this great double bill.
The Reformed Whores were last in Bay Area a few months ago for SF Sketchfest, and they will again be at the Punchline this Sunday night.