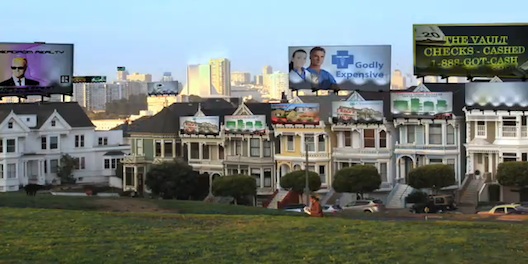 So the Mid-Market billboard fight begins: opponents of Prop D, a plan to allow signage along Market Street between 5th and 7th streets, have launched a new ad that's viewable on YouTube.

The ad depicts billboards blanketing San Francisco from Golden Gate Bridge and the Painted Ladies to the Transamerica Pyramid and... the moon.

The point comes across loud and clear, if a bit deceptive, and no doubt slippery-slopists will agree with its implication.
The SF Examiner also points out a seven-minute video produced by the City taking Prop D from both angles.

In the video, a proponent says the measure will "bring people back to Mid-Market," which will inevitably bring businesses back, creating an "exciting, vibrant environment" and a "seamless connection along Market Street" from the Civic Center to the Ferry Building.

Opponent? "Private commercial interests" will come in to dump ads on Market, giving a "large Times Square-esque feeling to a historic arts neighborhood."

Copyright CURBS