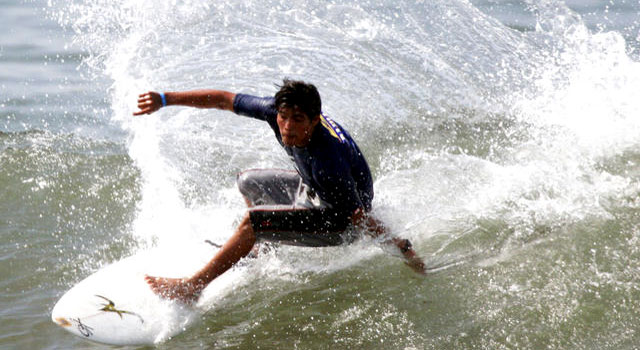 You'd figure the life of a big-name surfer would be a smorgasbord of tasty waves, hot chicks and cold beer. But on Wednesday morning, Mavericks founder Jeff Clark was going about the very unglamorous task of dashing from meeting… to meeting… to meeting.

With the three-month contest window open for the 2012 Mavericks Surf Competition, Clark was busy touching base with everyone from the Coast Guard to Cal Fire to the Pillar Point Harbor Patrol.
"Given what we saw the last event, safety has become the forefront of the Mavericks invitational," Clark said before dashing into yet another safety meeting.
The last Mavericks contest held in February of 2010 is probably less well-known for the surfing as the massive rogue wave that pummeled spectators on the beach of Princeton-by-the-sea, as the area is officially known. One spectator suffered a broken leg and scores of others were injured as the wave swept them into the lagoon. This time organizers are playing it safe.
"We're closing the beach and the bluff because you really can't see the contest from the beach," said Clark. "To put all those people there, it's a dead end."
It's the first time in the contest's history spectators won't be able to watch the action in person. Last time around, 50-thousand people showed up in Half Moon Bay, trampling through nature and clogging roads.
Clark and several agencies staged a drill Wednesday morning to hone their response to surfers or other contest staff who might be injured by the massive, punishing waves. But Clark was amply concerned about the safety on land.
"I've run the water patrol since we started this contest," said Clark. "Amazingly enough, all the injuries and incidents have been on the beach."
This year, organizers plan to create a Mavericks surf village near the Pillar Point Harbor for visitors to gather. It will cost $25 to enter the event where a giant video screen will carry the contest action. In addition, a number of businesses in the area plan to stream the contest.
Bar owner Pete Overhill expects the contest to bring a huge wave of business to the area. Overhill was at the contest in 2010 when the rogue wave scattered spectators. He said he supports plans to close the beach the day of the contest.
"It's probably safer from last year of people getting washed into the lagoon," Overhill said.
Organizers of the competition will hold a community meeting on Thursday to unveil safety plans, and to listen to public concerns. Opening ceremonies are scheduled for Friday at the Harbor Village, though it could be weeks or months before the conditions are ideal for the one-day contest.
In between the meetings and planning sessions, Clark did manage to sneak away long enough on Tuesday to ride a few waves himself.

"I'm excited the windows finally opened up," he said. "The ocean has come alive."