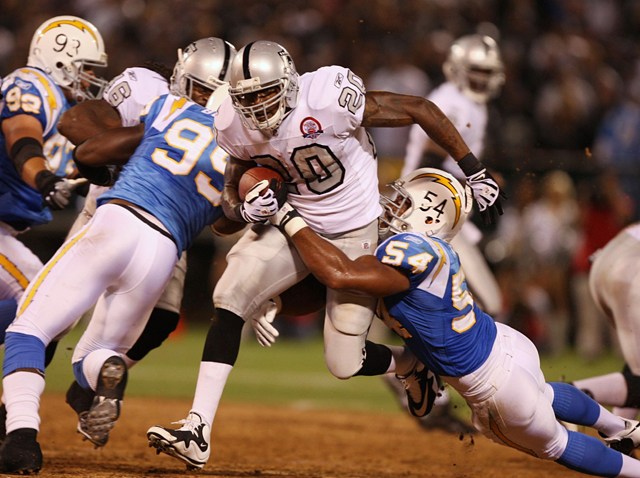 The Oakland Raiders' third receiver and resident punt returner Johnnie Lee Higgins hadn't even practiced since the Chargers game, when he suffered a sprained shoulder. He returned to practice Tuesday, and is listed as questionable for Sunday's contest with the Denver Broncos.
So who's returning punts Sunday if Higgins is unable to play?
"My feeling is (Higgins is) going to go," coach Tom Cable told the Chronicle Tuesday. "If he didn't go, I think that Darren (McFadden) would go back and fair catch everything."
Whoa, did we just hear Darren McFadden might be returning punts?
It wouldn't be a bad idea. Back at Arkansas, McFadden returned punts occasionally and was one of the SEC's finest in that capacity. In occasional punt return duty for the Razorbacks, McFadden returned nine punts for 370 yards and three touchdowns. McFadden maintained -- are you sitting down? -- a 41-yard average per punt return.
One would not expect McFadden to average 41 yards per return in the NFL. But one would also not expect him to be fumbling fair catches, like his butterfingers teammate Javon Walker did against the Chiefs.
Are you reading this, Denver Broncos? Coach Cable said quite clearly, "Darren would go back and fair catch everything." So there's no way on earth he even tries to return those punts. Nope. No sense even practicing punt coverage this week. You have it on very good authority that McFadden will not actually try to return those punts, so relax and expect him to fair catch everything just like Coach said.
Sounds fair, right?
Joe Kukura is a freelance writer who wishes that Arkansas fans had spliced some punt return highlights into their McFadden YouTube video highlights set to satanic movie music.
Copyright FREEL - NBC Local Media