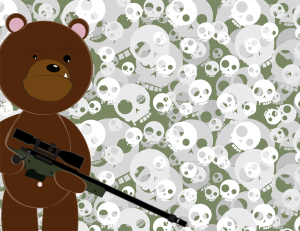 Rocket World is T.A.D. Gear's spaced out roommate and the brain child of creator, Patrick York Ma. Patrick's vision is to raise awareness of endangered species and to promote indie-lifestyle through apparel, collectibles and art. Now that Rocket World is here, that dream can be stamped as mission accomplished.

Alfonso, Hannibal & Titus are endangered species. Their purpose is to hunt down those who hunt them down or at least to make the World aware of their desire to co-exist with the rest of us on this planet. While Alfonso, Hannibal & Titus watch over each other and enjoy traveling together, they are self-supporting. When adopted, each is eager to please as a symbol of inspiration, motivation, and comradeship.

Alfonso is a rhino not to be messed with and truth be told, he is a loose cannon just waiting to be "goaded" into action. Alfonso marches to a the beat of a different drum as the saying goes so adversaries beware. But, when Alfonso is an ally, a more loyal and protective companion you will not find. An added bonus; he enjoys a nuzzle now and then.
Titus, aka Secret Agent Titus, is a bear. He is the epitome of the well-rounded hero. He's charming, witty, polite, gallant and at the same time, keenly aware of danger lurking. Titus can turn on a dime to confront an enemy. He is Smokey the Bear's great-great grandson and he carries the torch well. Titus is full of compassion for his loved ones and since at times we all need a bear hug, he is front and center. As a personal guardian, Titus is the perfect candidate.
Hannibal is a gorilla. With a stoic demeanor, he is straightforward, patriotic, dependable and not easily riled. However, when need be, he's armed and dangerous. Hannibal keeps his temper in check most of the time but there are certain scenarios he will not tolerate. Challengers stand down. When Hannibal trusts you, he'll delight you with his antics but if he suspects you, his stronghold can be deadly.

Make no mistake, when "On Duty", Alfonso, Titus & Hannibal are ferocious. But in friendship, each is loyal, steadfast and true.

Rocket World qualifies as a shopping experience not quite like any other. With guidance from General Manager Jason Aranzamendez you're sure to become an enthusiast.
Can you think of a better gift for someone who has everything?

Rocket World - 660 22nd Street @ 3rd Street - San Francisco - 415.318.8252 - www.rocketworld.org

Rocket World donates a % of sales to wildlife conservation

Score some rare endangered deals on a personal shopping trip with Lexie Quring. Head to ShopWithLexie.com or email her at lexie@shopsfwithlexie.com