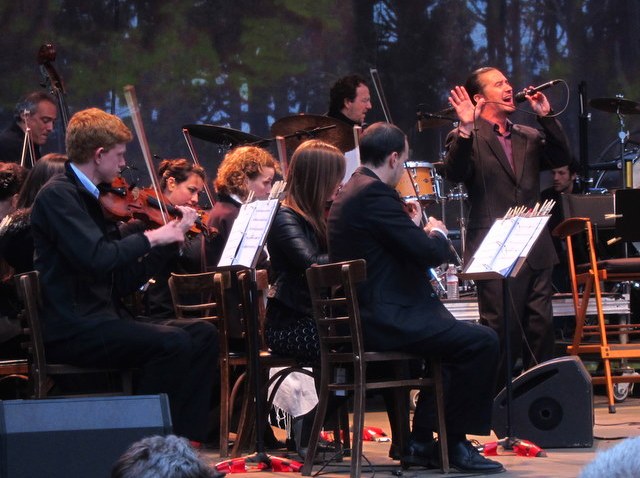 I'll admit it. I've been a big fan of vocalist Mike Patton for a long, long time.

We grew in the same small Northern Calif. town of Eureka together. Only I was about seven years younger and rarely allowed to see his high school band Mr. Bungle playing house parties around town. Instead I'd stay home and listen to their demo cassettes over and over.

So when I saw that this year's Hardly Strictly Bluegrass Festival included the US premier of Patton's latest project Mondo Cane (pronounced "Carn-ay," meaning A Dog's World), an ode to Italian pop music of the 1950s and 1960s, I couldn't believe my eyes.

While the original European recordings of Mondo Cane were made with an orchestra of more than 60 performers, the stripped down version that played Golden Gate Park Sunday evening was still two dozen musicians, with half of that being made up by the strings of Magik*Magik Orchestra of San Francisco.

While I'm not sure if Mike Patton was the first person in 10 years to bring an orchestra to the Bluegrass Festival, he certainly seems like one of the most unlikely people to do so, yet with his "experimental" tag, it kind of makes perfect sense.

The crowd was a fraction of the size of Elvis Costello's from the set before, which made things that much better. You could easily get pretty close to the stage for what ended up being an incredible hour and fifteen-minutes of music. Certainly the most interesting set I've ever seen at Hardly Strictly.

Patton crooned like never before, something he has only touched on in earlier bands, where with Mondo Cane, he really gets to stretch his maestro muscles. Singing these great old Italian tunes, most people in the audience had no idea what they are about, not that the language barriers stopped anyone from enjoying the show.

The Patton fans were easy to spot, but what I thought was more fun to see were people who had no idea what any of this was and were really excited by the fun, full sound of the group. When Patton would launch into one of his characteristic screams or grab his megaphone for a verse, the look of "W.T.F?" on people's faces was priceless, yet no one seemed to leave early with the audience growing as the show went on.

One pleasant surprise was to see Patton's childhood buddy, former Mr. Bungle (and Faith No More) guitarist, Trey Spruance sitting in for the set with three singers, an upright bass player, drummer, percussionist, pianist, saxophonist (that Patton introduced but I never saw), electronic musician, as well as a conductor.

I would pay $100 to see this band play Davies Symphony Hall, but to get to see them for free at the Hardly Strictly Bluegrass Festival was just one more example of how lucky we are to live in the Bay Area and how thankful I am that people like Warren Hellman, and Mike Patton, also live here.

The Vine has a great interview with Mike Patton talking about Mondo Cane, the album that debuted at No. 2 on the [US] Billboard classical charts earlier this year, if you want to find out more.