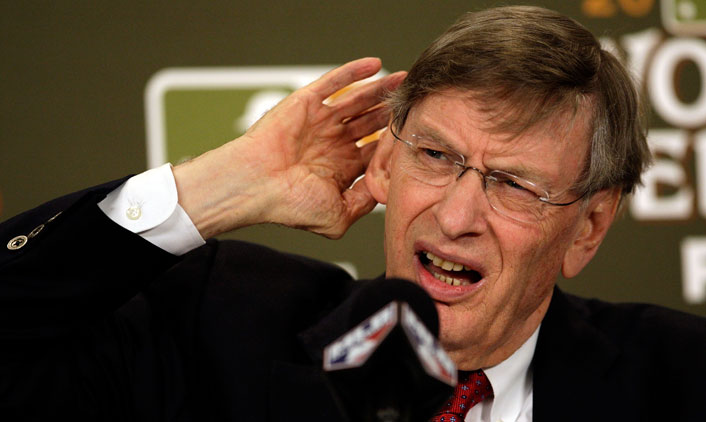 Thursday was a big day for Major League Baseball. Not only did they send the Astros packing to the American League West (they'll finish last there instead of in the National League Central beginning in 2013), but MLB Commissioner Bud Selig announced the addition of an extra Wild Card team beginning as early as 2012.
This new format, which has baseball purists up in arms, will add two playoff teams, one from the National League and one from the American League. The two Wild Card teams from each league will then meet in a one-game playoff to be played before the current Wild Card Round.
"You don't do things for only one year. You do things for a long period of time," Selig said. "We believe after a lot of study and a lot of thought that the addition of two Wild Cards is really going to help us in the long run. One thing you learn is that baseball is a metaphor for life and nothing's perfect. But I think people are excited about it. They should be."
Yes, Selig did in fact start off his announcement defending his actions, which is usually a bad sign. But it's hard to hate on this too much, even though it wouldn't have put the Giants in the playoffs in 2011 regardless.
The Giants would have missed out anyway, because the Braves collapse wasn't big enough to let them fall past the Giants.
However, this new format should benefit the Giants, and here's why: it adds one more spot to the playoffs, and that means that if a National League West team has an aberrational year (see: San Diego in 2010, Arizona in 2011), the Giants will have an extra spot to try and sneak into the playoffs.
If they get there, it's only a one-game matchup. If you have one game to play, do you know what you want? Really good pitching, that's what. And the Giants have two guys with "ace" stamped all over them in Matt Cain and Tim Lincecum, which means they should benefit from the ability to trot out a studly pitcher in a single-game format, should it ever come to that.
It's still possible, though, that the extra playoff spot might not be incorporated until 2013.
We hope to have it for next year, but we have some judgments to make on that point," Selig said Thursday.
Regardless, it's coming, and while that might mean serious changes to baseball, it also means an increased chance of making the playoffs for the Giants.