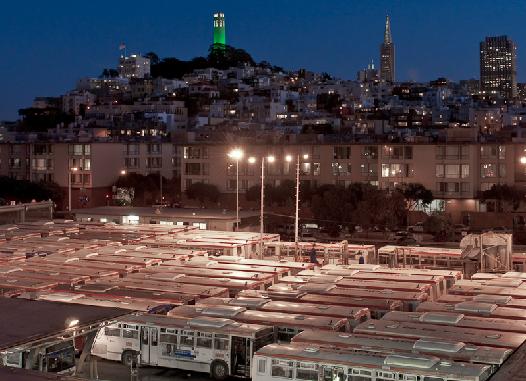 When government agencies run into budget trouble, they are always tempted to sell off hard assets in order to meet budget shortfalls.
Most recently, the state tried this shortsighted idea with a whole slew of state buildings, some in San Francisco. Eventually, someone has the temerity to mention what a bad move this is financially, and the scheme fades away until someone else comes up with the idea for what they think is the first time.
MUNI, as a perennially cash-strapped municipal organization, is not immune from this asset sale madness. Once again in the red, the SFMTA has again floated the idea of selling its Kirkland Division Bus Service Yard, to be potentially developed as a mix of below market and market rate housing. The yard, at the southwest corner of Beach and Stockton, was originally developed by the US Army for WWII, and currently maintains buses running the city's northeast routes.
As alluded above, this is not the first time it has occurred to the SFMTA to rid themselves of this outdated bus yard. In 2004, the authority sponsored a citizens' advisory committee to investigate a sale. At the end of the day, the SFMTA decided they still needed the yard for maintenance. According to Aaron Peskin:
Before they go waste any more staff time, they should be 1,000 percent sure that they don't need Kirkland anymore...It's actually kind of an embarrassment how much the agency has spent on consultants to realize they still need the facility.
Peskin's grasp of percentages aside, he makes a valid point. SFMTA officials nevertheless insist that this time is different, claiming that the agency could complete all maintenance at its Islais Creek facility, slated for completion in 2012.
Anyway, the current plan calls for an acquisition by the Mayor's Office of Housing and a private developer to be named later. As a proposed component of HOPE SF, the site would support 220 units, 20% of which would be below-market rate, as well as 200 proposed parking spaces, all for a price tag below $70 million. The SFMTA claims that their scheme would net $35 million for the agency over the next twenty years. While we don't want to explicitly rain on any parades, we'll believe it when we see it.
Bus yard housing plan revived - [Examiner]
Copyright CURBS