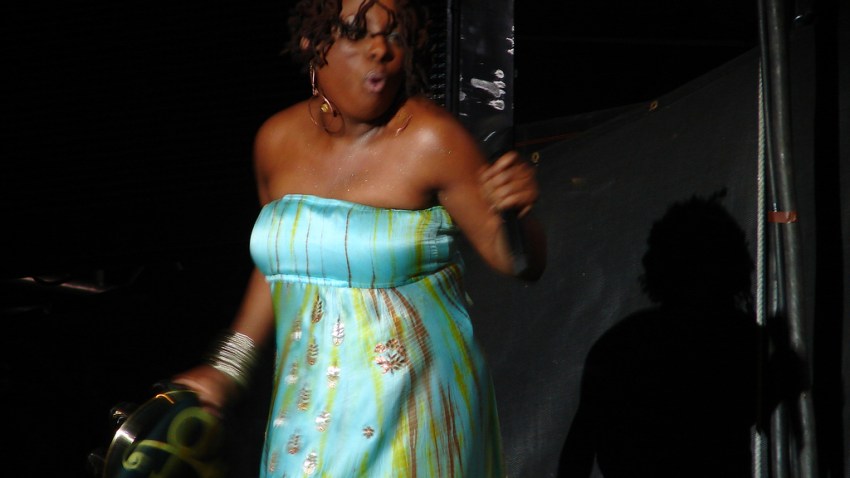 More than 2,700 eager Bay Area residents packed the Woodminster Theater at Joaquin Miller Park in Oakland this past Sunday.

Capacity was 2,600, and even the fire marshall's threats weren't enough to keep Oakland families from getting their free groove on. East Oakland native and soul singer deluxe, Ledisi, ripped the stage for a solid two hour show. Her performance was part of a free concert series held by the City of Oakland and KBLX. Last year they brought out Dwele and it was pretty awesome.

People were devoted; lines formed at 11 a.m. for doors that didn't even open until 1:30 p.m. Folks sat outside in the increasingly freezing ass cold, watching random ass opener after sub par opener - really waiting for Ledisi to get the hell on already.

The woman of the hour did not disappoint. Also claiming New Orleans as her home, she chided wannabe scatters with her vocal acrobatics, telling them to 'go home with their shoobee doo-wop's. She preached to the audience about

happiness, love, and putting God first - saying, "I don't care what you believe in - just put your hands up. This is my church."

But I'm not sure if God was always in the house when ol' girl busted out the frequent booty shakes and gyrations. She went so hard, her backside was sweating while my butt cheeks were icicles. I mean, her bottom wasn't really sweating and I couldn't see her face. She screamed, she yelped, she boogied, she riffed and she ran that ish.

She told the crowd, "I ain't scared of y'all." Moving out to the edges of the stage, she called out individual people to get up, stop filming, or whatever the frick else she felt like demanding.
Her crowd control was impressive; for one song she got all the women to sing one line and all the men to sing another line. And yes, the men sang - what sounded like damn near all of them. That woman got a hold. Death grip.

But even all good death grips must come to an end. Miss Ledisi warmed up - just a bit - towards the end. In attempts to try to please as many as of her fans as possible, she concluded the show with medley of songs. Knowing that she ultimately couldn't please everyone, she played - "I know some of y'all are still gonna send me hate mail like, 'why you ain't play my sooooonnng, girl?!'"
Seher Sikandar is a Bay Area-based photographer and writer who covers art and lifestyle events. Check out her portfolio atrehescreative.com.