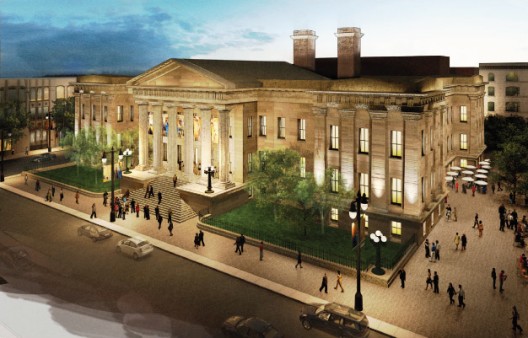 Sold to the City by the federal government for $1 back in 2003, the Old Mint building (a.k.a. "Granite Lady") on Mission and 5th streets began its slow morph into the permanent home for the Museum of the City of San Francisco in 2005.
With all of the attention in recent years being lathered on the transformation of adjacent Jessie Street into the Minty Fresh pedestrian plaza, you could hardly forget the empty, hulking mass next door— but empty it shan't stay.
At the moment, the museum's caretaker, the San Francisco Historical Society, has raised $30 million toward the adaptive reuse project.
Naturally, in the time it took them to do that, the projected cost of the building flew from $46 million to, oh, about $100 million, which means they have they've got a little more work to do.
Among the renovations: the central courtyard will be enclosed with a "glass canopy embedded with solar energy cells." Designed by HOK, the museum's shooting for becoming the only LEED-certified national historic landmark in the state. Props. Mint Plaza has much to be thankful for.
Copyright CURBS