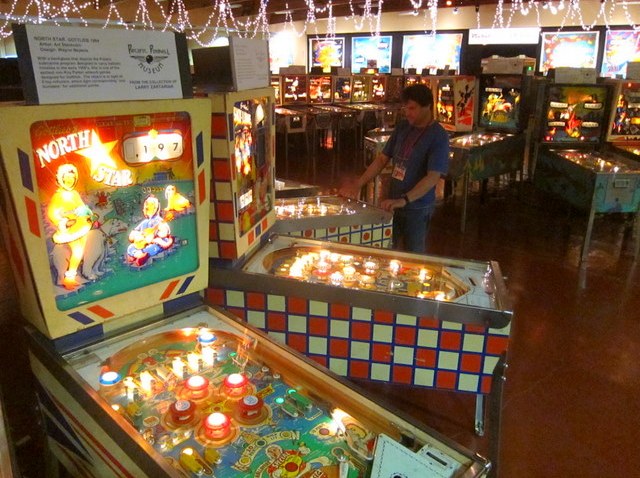 Pinball aficionados have a Mecca for the weekend, and it is the Pacific Pinball Exposition in San Rafael.

For $25 a day, or $45 for the weekend, you are welcomed into a giant room with bells, pops and cracks from over 375 machines spanning 80 years, all set on free play for your finger flipping enjoyment.

My favorite row had the new Iron Man machine next to CSI, Golden Eye 007, Medieval Madness, Family Guy, Flinstones, Apollo 13, Lord of the Rings and many more… and that's just one row!

The event is open to the public Friday through Sunday from 10 a.m. to 10 p.m. Friday, 12 a.m. Saturday, and 8 p.m. Sunday.

On Thursday, employees from Autodesk, who have an office right around the corner from the Marin Civic Center Exhibition Hall, where the event is happening, were welcomed to bring their families in to play some pinball and it was fun to see people who might not usually go to something like this hanging out having a (silver) ball.

Corporate sponsorship like this is a great sign for a somewhat dying industry, with only one manufacturing company left in the world, Stern Pinball in Chicago, Il. The fact that the Pacific Pinball Exposition is only in its fourth year and already seems to have their stuff together enough to get a deal like that going is also a great sign.

The Pacific Pinball Museum in Alameda puts on the event each year and we are lucky to have a place like that in our back yard where pinball can be celebrated each weekend.

Next weekend, on Saturday, October 8, a special pinball art show opening is happening at the Museum showing The Pinball Art of Doug Watson.

This show goes from October 1 to November 1, with a special $10 opening price on Saturday October 8.