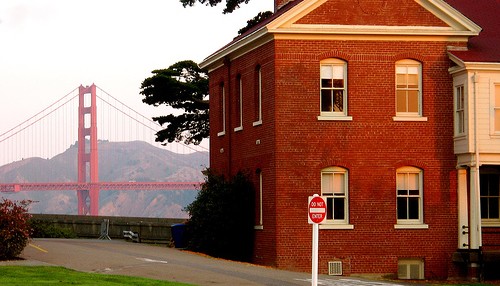 The proposed Presidio contemporary art museum has long bitten the proverbial dust, but the other Presidio museum's headed for its grand opening in but seven days.
The Walt Disney Family Museum, dedicated to the life of the man who started it all, was designed by architects Page & Turnbull and is housed in three readapted buildings along the western edge of the Main Post.
And the founders of the museum wouldn't have it any other way.
"Most people immediately think of Walt Disney Company, the beheamoth global organization that Walt founded," Richard Benefield, the director off the Walt Disney Family Museum said. "That's one of the great things about having the museum in San Francisco is that the museum is really about the man."
Given the hellfire and damnation over the design of CAMP— enough to get it redesigned completely at least once— the architecture of the Disney museum may be worth noting: a glass structure glued to existing brick walls, seen here with architect Jay Turnbull. An off-the-shelf, socially approved solution to reusing old buildings! The lesson? When in doubt, go uncontroversial.
Curbed SF contributed to this story.
Copyright CURBS