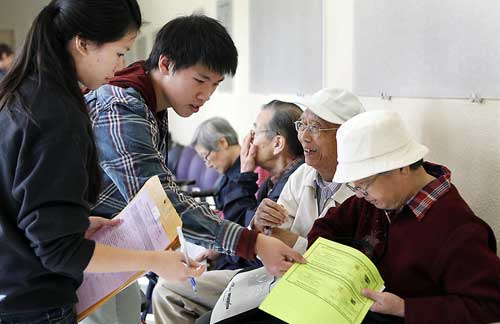 On Friday, November 8th, Sacred Heart's Holiday Food and Toy program will open for registration. For 49 years, Sacred Heart Community Service has helped families celebrate the holidays. This Thanksgiving, Sacred Heart will provide 4,000 families with holiday food boxes and give 16,500 new toys to children.

Despite the improving economy, Sacred Heart Community Service continues to serve the same high numbers of customers as when the recession began. The 2013 Holiday Food and Toy program is expected to be the biggest ever, and tomorrow families will come to Sacred Heart to sign up.
WHAT: Registration Day for the Sacred Heart Community Service Holiday Program
WHO: Low-income families will line up for hours to register for a Thanksgiving and Christmas Food Box and Christmas toys for their children. Hundres of volunteers will be here to help, including groups from sponsors like the Del Grande Dealer Group and Santa Clara University
WHERE: Sacred Heart Community Service, 1381 S. First Street (at Alma), San Jose, CA
WHEN: Registration begins Friday, November 8, 2013 from 9:00 AM to 6:00 PM.
WHY: Without this assistance, families would not be able to enjoy the holidays as their neighbors do. Sacred Heart Community Service needs donation to make sure every family can celebrate Thanksgiving and Christmas.
People interested in helping can visit Sacred Heart's website at www.sacredheartcs.org/holidays to donate online.