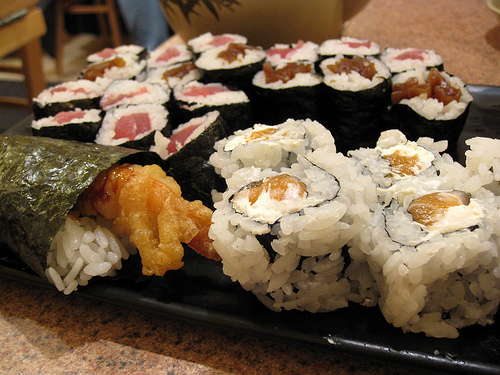 If there's one thing that San Mateo has no shortage of, it's Japanese restaurants. I can think of ten within a two mile radius of downtown (and that's not counting the two Japanese supermarkets in the area). As a result, competition is fierce, and Sushi Sam's Edomata appears to be the most popular.

The tables were packed when I visited on a weeknight, though I was seated pretty quickly. I quickly decided on agedashi tofu to start, while I waited for my sushi to be assembled.

Agedashi tofu is one of my favorite Japanese dishes, and this was one of the best preparations I've had. The caramel-colored agedashi broth was light and packed with umami, and the lightly-fried soft tofu was ethereal. The bonito flakes and green onions gave it all an extra dimension of texture and flavor.

For the sushi, my dining companion and I split an order of tekka maki, kampyo maki, Philadelphia roll and an ebi tempura hand roll.

The tuna was fresh and buttery, and the ebi tempura was tasty as well. The Philadelphia roll was by far my least favorite, mostly because I really, really don't like cream cheese in my sushi. The kampyo maki, or cooked calabash gourd maki, was good: slightly sweet and chewy.

Prices are more expensive than average at Sushi Sam's, so be forewarned. The fish quality is top-notch, though the sushi menu selection is pretty average.

They offer omakase (chef's choice) as well, which I've heard is out of this world. While I wasn't blown away by the dinner menu, I may find myself coming back to try out the omakase. At Sushi Sam's, it seems that the sushi bar is the main attraction.
Mariam Hosseini is a Bay Area native who has been writing about food and travel for six years. She blogs regularly at yogurtsoda.com.