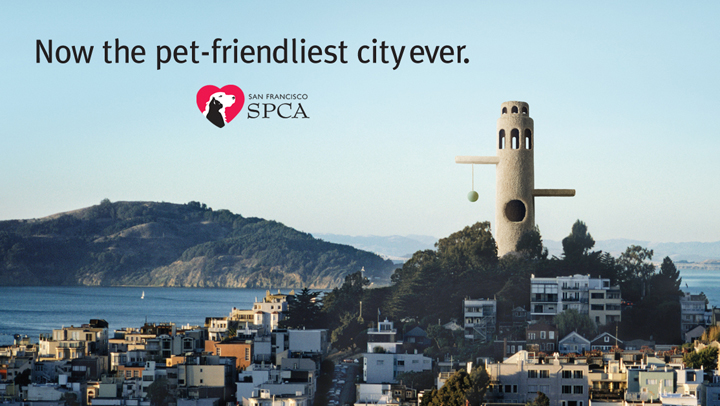 sfspca.org.
As our parents always said, a pet is a big responsibility. But without the proper support structure, caring for a pet isn't always simple.
That's why for over 140 years, the San Francisco SPCA has made animal welfare its mission, providing adoption, vet and educational services at their Mission campus on Alabama St. By focusing on prevention, rescue/adoption services and local training programs for kids and adults, the community-funded nonprofit has helped make San Francisco the only major city to have saved more than 90 percent of its pet population.
And now it's even easier to get the proper care for your pet or to adopt a new fury friend. Thanks to merging with Pets Unlimited, the SF SPCA has increased organizational resources and enhanced operations to superserve the San Francisco animal and pet owner community. With duel campuses (Alabama and Fillmore Streets), and 200 years of combined experience, the organization will have increased organizational resources and enhanced operations.
So what does this mean for you and San Francisco's four-legged residents? Key benefits to the merger include:
Ability to increase adoptions and charitable care by offering two locations in different neighborhoods of San Francisco.

Superior customer service for guardians by offering two locations for veterinary care, while staying in the same hospital system.

Enhanced animal care services through the combination of best practice methods.
Ability to share marketing, advocacy, and fundraising resources, thereby creating an efficient system that provides more in charitable animal care for those who might not otherwise be able to afford veterinary visits.

Enhanced partnerships with local animal welfare organizations like PAWS and VET SOS.
Larger, more efficient volunteer network.
While the SF SPCA has expanded, it remains focused on its core mission: creating a community where every animal has a loving home.
To learn more about their services, how you can get involved and to preview all of their adorable, adoptable animals visit sfspca.org.