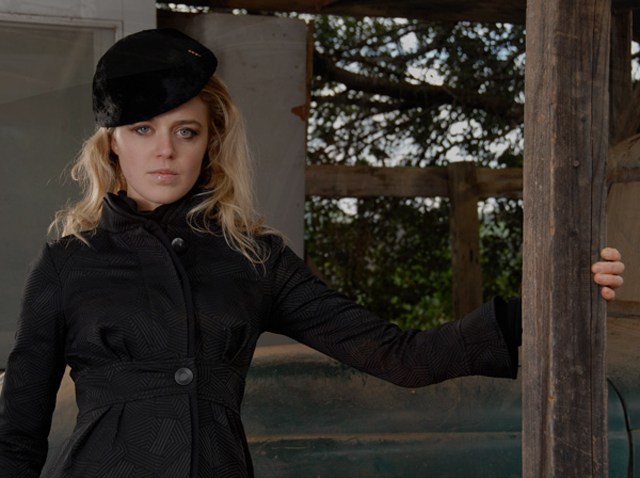 It's no wonder that local designer, Christopher Collins was recruited by the popular international reality show, "Project Runway" for their season eight series.

Christopher's talent is recognizable by even the most nonchalant style followers. Most notable is his expertise as a liaison specialist, melding the chic innuendos from past decades with the haute monde trends that are dawning in Century 21.

Christopher stays focused on fit, fabric and fashion as he gathers up an impressive clientele list in his little black book. Now, not only a designer-manufacturer, Mr. Collins has joined the ranks of San Francisco fashion leaders with the opening of his charming boutique.

Christopher Collins - Boutique

The obscure store front on a funky block of Sutter Street is an atelier in the true sense of the word. The area works double and triple duty for the designer and his team. The neighboring space houses the design center and workshop while the boutique showcases inventory.

Locals can easily access the boutique and tourists, fortunate enough to make the trek to San Francisco, are welcome to prearrange a visit.

The shop itself is a salon with high gilded ceilings and warm white walls. A painted manzanita branch adds whimsy as a central chandelier while vintage fashion newspapers with faintly stenciled fluer de lys give illusion of days ago and contribute a dramatic accent. Of course, the well staged interior is another creation by Christopher Collins, himself.

Christopher Collins - Fashion

When previewing the collection, there is an obvious sense of playfulness and intrigue in each silhouette. For example, a seemingly simple sheath reveals a bold oversized back zipper changing the description from exit detail to focal point.

Several styles feature an emphasis on the waistline while others draw attention to the shoulders. There are wide cuffs, deep V's and voluptuous flounces but, assuredly, whatever the detail, the look is urban, sophisticated and it all sums up to flattering!

Christopher Collins - 1112 Sutter St. in San Francisco
Call first just to be sure - 415-440-2464
www.christophercollinscollections.com
Lexie Quiring host personal shopping trips through the City. Visit ShopSFwithLexie for more information.