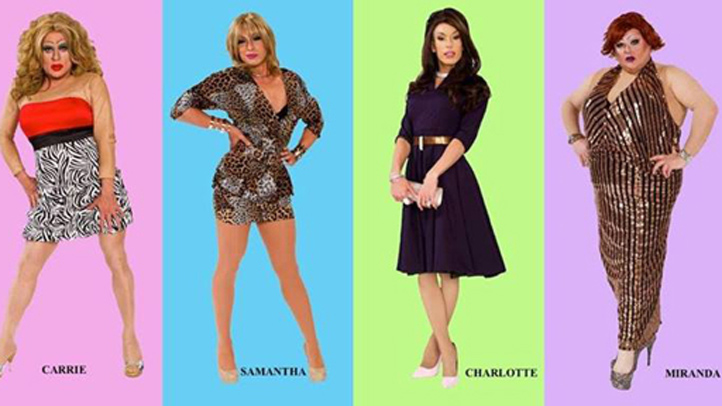 U.S. State No. 49 namesake and top three "RuPaul's Drag Race" contestant, Alaska, is saying, "Hi-eeee!" to San Francisco audiences for the next few weeks as part of the cast of "Sex and the City: Live!"
The shows are being performed Thursdays to Sundays through August 10 at the Victoria Theatre, 2961 16th St. in SF. Also starring as the rest of the fierce foursome from the HBO sitcom-turned-movie-series are drag performers D'Arcy Drollinger, Lady Bear and San Francisco drag linchpin, Heklina.
Fans of Alaska might expect her to be taking on "Sex and the City's" Carrie Bradshaw.
"Originally [Heklina] thought that I should play Sarah Jessica Parker because we are both horse-faced blondes, but I was like, 'No, I want to play something challenging. I want to play against my type,'" Alaska said. "I want to play Charlotte, the WASP-y brunette!"
But even going deep into Alaska's closet of frocks, frills and fashion accessories, you won't find anything like what Kristen Davis wore as the most-conservative of the foursome on "Sex and the City."
"They are going to have to go to Saks Fifth Avenue, Ross Dress for Less or wherever they need to go and get me totally new clothes," Alaska said.
"Sex and the City: Live!" is back after two sold-out runs in 2012 and 2013, and is featuring two brand-new episodes during this run, made up of fan-favorite scenes from the 1998-2004 series. Heklina takes on Carrie; Lady Bear is Miranda; and Drollinger does double duty as the voracious Samantha as well as director of the show.
Alaska said she's thrilled to call San Francisco home for part of the summer. "It's a really special place for me. When we needed to escape from Los Angeles for a little while, [my best friend and musical director] Handsome Jeremy and I would go up to San Francisco and spend a few days. I love it."
Alaska also hopes to bring her Stevie Nicks tribute cabaret show, "Forever Stevie," to San Francisco very soon.
"We're not just fair-weather Stevie fans, who only found out about her because we watch 'American Horror Story,'" Alaska laughed.
The idea came to them while she and Handsome Jeremy had just moved to L.A. and were struggling for work. Keeping them sane was the music of Nicks and getting baked, Alaska said.
"Forever Stevie" runs through the icon's entire career, from the Buckingham-Nicks era up through current solo stuff. "Stand Back" is Alaska's current fave Nicks fix. "Ooh, when you hear that in the club!" she said.
Visit sexandthecitylive.eventbrite.com for more info on "Sex and the City: Live!" tickets.


Corey Andrew has been interviewing comedians and writing about comedy for the last decade and a half. He recently published the book, "Laugh Lines: Conversations with Comedians." Corey was a writer and performer with Midwest sketch troupe, The NonProphets, before moving to the Bay Area with his family several years ago. If you have ideas for future columns about comedy, you can send them to coreywrites@yahoo.com or follow him at twitter.com/coreyshame.