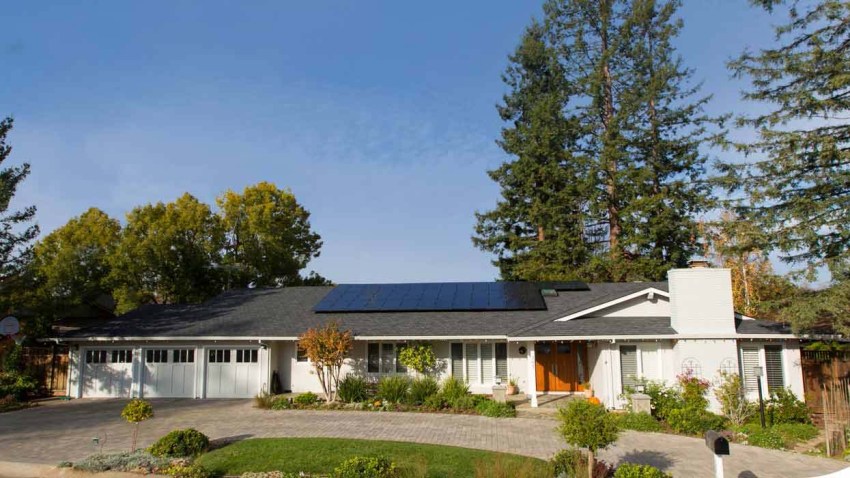 This article is sponsored by SunPower by ProVoltz. It does not reflect the work or opinions of NBC BAY AREA's editorial staff. To learn more about ProVoltz, visit ProVoltz.com.

A solar installation for your home can be an incredible investment, but with gross costs (before incentives) ranging from $10,000 to over $75,000, most homeowners prefer to pay for their solar system over time with some sort of financing. In this article, we will explain how common solar financing models work and some of the benefits and disadvantages of each.
#1 Home Equity Line of Credit (HELOC)
There's no better way to finance a solar system for your home than with an equity line. As a secured loan, the interest is low at 3-4.5 percent. When used for home improvement, the interest is also tax deductible, which further reduces the true cost of interest to approximately 2.1-3.2 percent. HELOC's are often available for no out of pocket costs. The payment terms are normally 15 to 30 years and monthly payments are generally much lower than the monthly savings on your electric bill. You also get to take full advantage of the 30 percent federal tax credit instead of forfeiting it to an anonymous financial institution. Another benefit of the HELOC is that you retain a lot of control over your project. You can shop around, choose exactly how much of your electricity cost you want to offset, choose what products you use, and who installs them. The main disadvantage of the HELOC is that it shows on your credit report.
#2 Property-Assessed Clean Energy loan (PACE)
Property assessed clean energy loans are a good option for homeowners who don't have enough equity in their home to borrow against or who have less qualified credit. PACE loans have been growing in popularity since they became more available in the past year or so. Like the HELOC, PACE loans are secured by your property, but instead of borrowing against the home's value, the entire cost of the solar system is added to your property tax bill. Terms range from 15 to 20 years with longer terms being higher interest. Because the loans are brokered by independent companies, the interest is higher than a HELOC at 7-10 percent. The cost of ownership in the end is higher with PACE than the HELOC, but it does have its advantages. You don't need good credit, and it doesn't show up on your credit report. Many PACE loans also have the option of re-amortizing the loan. So, you can opt for a slightly higher monthly cost in the beginning by choosing the shorter term with the lower interest rate, then use your tax credit to pay down the loan and reduce the payments. Something else worth mentioning is that it's very easy to sell your home with either a HELOC or a PACE loan.
#3 Leases and Power Purchase Agreements
Some may argue that leases and power purchase agreements should be in separate categories. However, if you use a HELOC or Pace loan, you own the system on your roof, and if you sign a lease or PPA, you don't. If you take a lease, you will typically rent the solar equipment that is installed on your roof, and get to use the energy it produces for the term of the contract. With a Power Purchase Agreement (PPA), you allow a third party owned solar system to be installed on your roof and agree to purchase the power it produces for a little less than the utility company would charge. The bottom line: a zero down solar lease or PPA costs about twice as much over the full term of the contract as you would pay to purchase the system outright.
The lease model was instrumental to the growth of the solar industry when the lending crisis prevented home equity from being a source of capital and PACE wasn't available yet. However, the disadvantages far outweigh the advantages when you consider your options in today's economy. The marketing energy behind leasing solar has been very aggressive and it's working. You've no doubt gotten a cold call during dinner or had someone knock on your door trying to sell you a "free" solar installation. However, with a little research, the savvy homeowner will quickly realize they should own their solar system. The large companies who make up most of the solar lease and PPA market are more akin to finance corporations than solar companies. Here are the three most common things they claim as values to homeowners that deserve explanation:
1.) Free installation -- It's not "free". Instead, the cost of the installation is built into the payments.
2.) Free maintenance -- Normal solar installations have zero moving parts. There's nothing you can do to "maintain" the solar system besides wash the panels, which they don't include in their "free maintenance".
3.) Production guarantee -- Read the fine print. The production guarantees are written so loosely that it costs them very little if they underperform. You may also find more favorable production guarantees available when you own your system.
Solar leases and PPA's aren't bad. They can still save you money and they still reduce your carbon footprint. However, when compared to the other options available, they sadly come in last place.
These are the most common financing models for solar energy, but certainly not the only options. New models come and go all the time and you should explore all your options before deciding what's right for your situation. For more solar financing information and a free design consultation contact Sunpower by ProVoltz at www.provoltz.com.