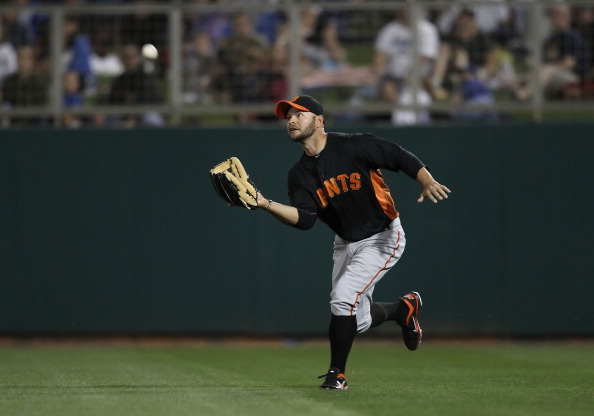 Most people would relish a break from their boss, but not a fan-favorite outfielder: Cody "Mr. Playoffs" Ross is likely out for three weeks.
That leaves a serious void in right field, as Ross was having a tremendous spring. But the Giants do have plenty of options to fill the slot. As we saw in October, Bruce Bochy can juggle a lineup. That's likely what we will see while Ross gets healthy.
Giants fans are hoping this opens the door to prized prospect Brandon Belt getting some time at first base with Aubrey Huff moving to right. That is unlikely however, as all Giants fans know one universal truth: General Manager Brian Sabean loves him some veteran players.
Belt will be a star for this organization, there is no question. I see him starting in the minors and being brought along slowly in mid-season. Seemed to work well for Buster Posey. In 22 Cactus League games this spring, Belt has hit .264 with two home runs and 10 RBI.
Another option would be, gasp, to put Aaron Rowand in center field and move Andres Torres to right. Bochy will likely give Rowand a chance to redeem himself after struggling last year, hitting just .230. He hasn't fared much better this spring.
Mark DeRosa, who missed most of the season with a nagging wrist injury that forced him to undergo surgery, is also an option. He will play all over the field, with some time at first base as well. That leaves Travis Ishikawa's future very uncertain. The best option in right might be Nate Schierholtz, who posesses a Howitzer for a right arm. His hitting is the major concern.
Despite the bevy of options, you will likely see a little bit of everything as the Giants deal with a daunting start to the season. Twenty-two of the first 31 games are on the road.
It's worth noting that if Huff does move to the outfield, it would bring back the "Wild Kingdom" defense -- Huff and Pat Burrell serving as the water buffaloes, and Torres as the gazelle. (Their words, not mine.)