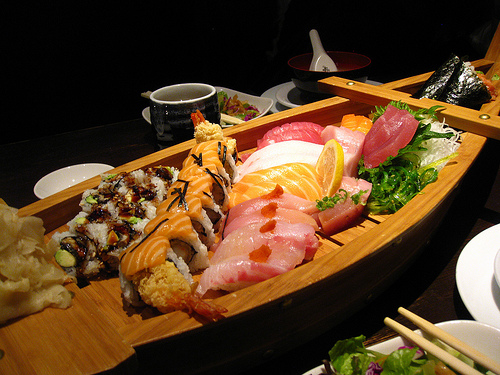 Please don't laugh. Despite the cheesy name, Wokano actually serves up some quality fare. I can't speak to the Asian fusion entrees on their menu, but when a colleague and I arrived in Los Angeles for a work trip one late weeknight, we were craving sushi. Wokano was located just down the block from where were staying, so we decided to give it a shot.

Part lounge, part restaurant, I admit I was a little apprehensive about what to expect. But my colleague and I were ravenous, and in our hunger, we ordered the Sushi Love Boat for Two. Don't judge us; it was a strategic decision.

But first, we started with the ubiquitous miso soup and salad, which were both very good. The soup was invigorating after our tiring flight, and I'm still wondering what they put in the salad dressing to make it so tangy and lip-smackingly good.

Next came our, ahem, Love Boat for Two, consisting of assorted sushi, sashimi, tuna hand rolls, tiger rolls, and eel avocado rolls, oh my. Okay, admittedly, this was not the best sushi I've ever had in my life. But for a late weeknight evening in what was an otherwise mostly deserted downtown Los Angeles, it was very satisfying. Our only disappointment was the tuna hand roll, which had been chopped into a paste-like oblivion. But the yellowtail, salmon, and ahi? I'm getting hungry just thinking about it.

Service was prompt at Wokcano and if you can put your sushi puritanism aside for an hour or two, Wokcano is a good choice. I'm used to stumbling into the nearest eatery at random after a flight just to hold me over, so Wokcano was a welcome surprise.
Mariam Hosseini is a Bay Area native who has been writing about food and travel for seven years. She blogs regularly at yogurtsoda.com.