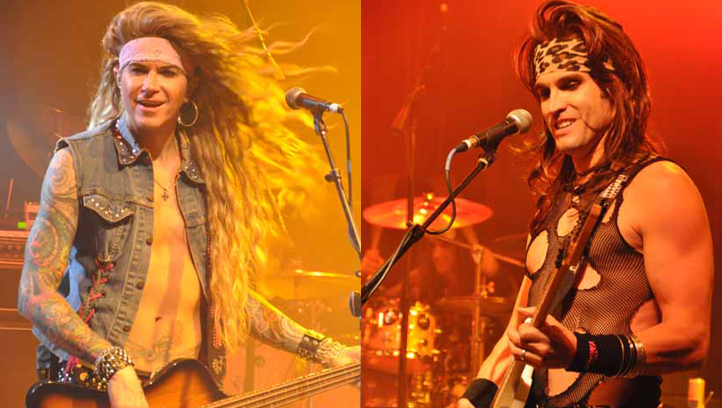 Steel Panther is what happens when parody becomes reality. They started out as one of the many tribute bands trawling for trade on Hollywood's Sunset Strip on off nights, and now get the kind of gigs those they originally imitated might kill to get.
Members Michael Starr (vocals), Satchel (guitars), Lexxi Foxx and Stix Zadinia (drums) honed their considerable musical and comedic skills covering the songs of '80s hair and metal bands during their long standing residencies at LA's Viper Room, Key Club and House of Blues. Now, having released three albums (Hole Patrol, Feel the Steel, and Balls Out), they play their own material and headline their own tours. They have also supported many of the bands they originally poked fun at (including Def Leppard, Mötley Crüe and Guns 'N Roses), and are booked to play Ozzfest Japan in May 2013.
Indeed, it could be argued that Steel Panther now have more original spirit than many of the megastars of metal they started out imitating. Certainly their live shows are more vital than those of most monsters of rock, and their original material –– which includes unforgettable titles such as "Eatin' Ain't Cheatin'," "It Won't Suck Itself," and "17 Girls in a Row" –– is not without merit.
"We've had our own music for a while now," Zadinia tells us. "Everywhere we play, outside of our LA and Vegas residencies, we play all original songs. I think our fans would be bummed out if we played a Poison song instead of 'Asian Hooker' or ''Tomorrow Night.' I believe The Fanthers want to hear the songs on our records. That's why they buy tickets. That, and the fact that we throw down the best party in the history of metal!"
On a mission to spread their love of Rock & Roll, Steel Panther are currently on the road with their three-month 'Spreading the Disease' Tour. As part of this disease-spreading endeavor, the bad boys of mock will be playing San Francisco this Saturday, March 23 at the Regency Ballroom.
"People don't always think of SF as a 'rock' town," says Zadinia, "but those people are obviously totally lame. San Francisco rocks! Last time we played the Regency Ballroom, it was sold out and 100% crazy. This weekend is going to be insane!"