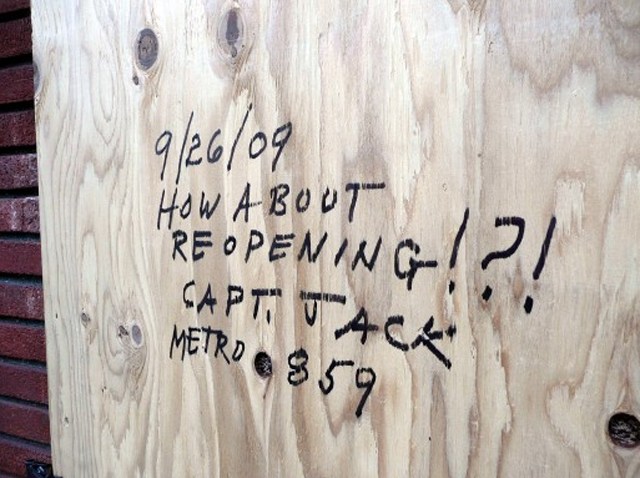 Earlier in the week, the San Francisco Chronicle shared the entirely-confusing plan about another branch of Original Joe's fighting to reopen in the very swank confines of the Cafe Majestic (but bearing a resemblance to Quince? Huh?).

Meanwhile a spot check of the original Original Joe's down on Taylor reveals that there's still no action within the still-charred interior.

When the fire took place two years ago, a representative for the restaurant told the Chronicle he expected it to reopen soon.
Frank Klein, a representative of Original Joe's property management company, said the restaurant likely will be closed for at least a week or two because of water damage from the firefighting effort.

"It's a darn shame," he said. "We've been here a long time. Some of the staff has been working 30 years."
However, the exterior boasts some fresh plywood, and in a neighborhood like the Tenderloin, it only took a few days before someone tagged it.

And that someone was a police officer named Captain Jack with a badge number of Metro 859.
Copyright EATRS