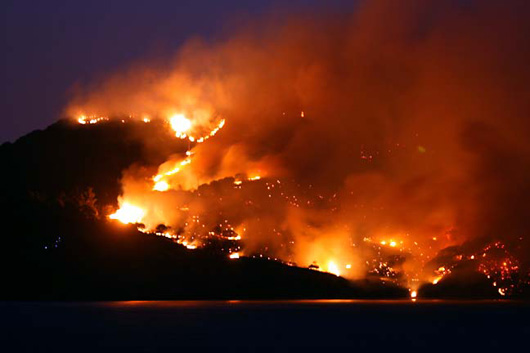 The Angel Island inferno was finally put out late yesterday— but not until it scorched half of the island's 740 acre landscape. Thankfully, there were no injuries and the trees and grass can grow back. The true concern though, was for the 120 historic buildings scattered across the island. Preservationists can stop holding their breath: thanks to an aggressive push by almost 400 firefighters, the military buildings dating back to the Civil War and turn-of-the-century "immigration complexes" — including one historic station currently undergoing a multi-million dollar renovation— were saved from the blaze. The only structures damaged were an abandoned water tank and an old rock crusher. Still no word on what caused the fire, although it does appear to have started near the campgrounds.
· Wildfire transforms Angel Island [SF Gate]
[image via Flickr photog photo101]For more stories from Curbed SF, go to sf.curbed.com.
Copyright CURBS