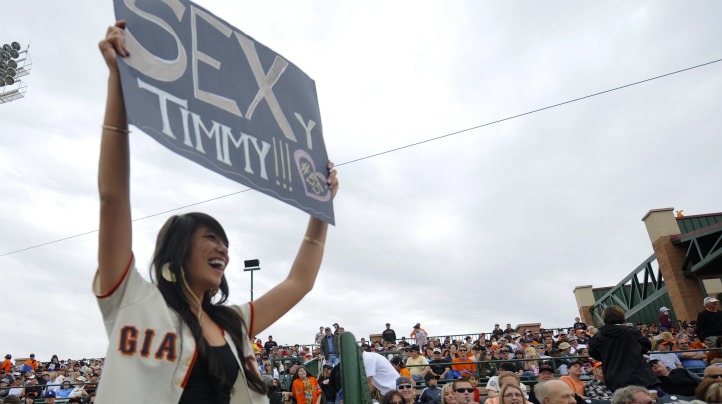 For the first time ever, Major League Baseball has released the list of baseball's best-selling jerseys for a single year. Fortunately for those that care about popularity contests, the Giants did okay in 2010, and thus, Tim Lincecum finds himself in the top-10.
Sure, it's "only" at No. 10 overall, but considering how obviously odd the list, which comes via CNBC's Darren Rovell, actually is, it should be no surprise that The Freak didn't rank higher.
For instance, even though Derek Jeter was terrible in 2010, he's still the top-selling single jersey in MLB. This makes no sense -- as Jon Bois of SBNation points out -- from an objective standpoint. But when you think about Yankees fans and how many there are and how much they worship "The Captain," it becomes less surprising.
Just like it's no shock that Josh Hamilton and Cliff Lee, two players who had monster years en route to helping the Rangers make the World Series, find themselves in the top-10 (at No. 7 and No. 5, respectively).
Or that Alex Rodriguez is No. 9. After all, he hasn't had any steroid or popcorn-eating scandals lately. Wait, nevermind, he's on the Yankees. Nothing else matters.
In short, there's nothing TOO shocking about this list. And it seems like San Francisco probably could have landed two guys (like the Rangers) if any of the following -- a) Aubrey Huff wasn't the most productive batter on the team in 2010, b) Buster Posey had played a whole season, c) Pablo Sandoval's jerseys came in smaller than XXXXL -- had happened.