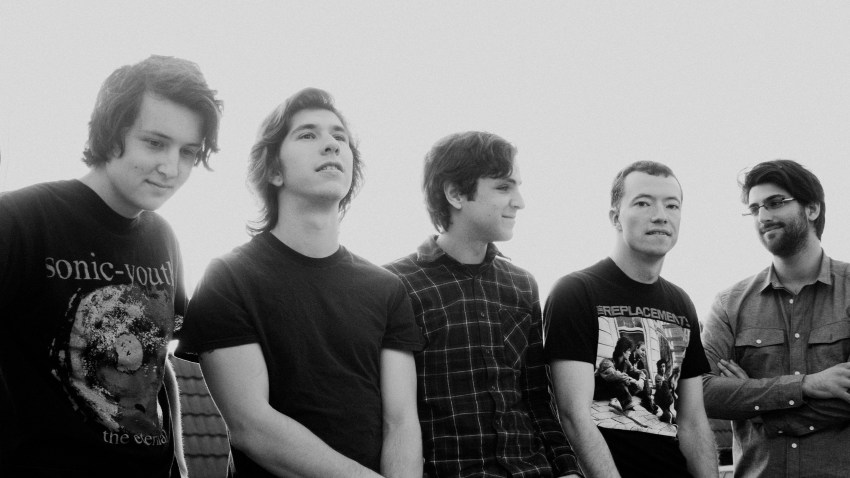 There's no slowing down for indie hardcore punk band Touche Amore.
At least, not anytime soon.
With their roots lying in Southern California's city of Los Angeles, they have made it around the world and back twice since their formation in 2007.
And they will be embarking on another international tour once again this fall making stops in 3 different continents - Australia, Southeast Asia, and Europe - with bands Make Do and Mend and the legendary hardcore punk band Converge.

"I never thought I'd see London. I never thought I'd see New York City. And by yelling in a microphone I get to see Malaysia and Indonesia," says Touche Amore lead singer Jeremy Bolm.

Bolm says that putting out music on vinyl and touring were two intentions for the group when they formed. He goes on to explain what has already occurred in the lifespan of Touche Amore was never planned.

"We never really had a goal. We wanted to tour and put out as much on vinyl as possible. That's what we wanted and still want to do."

Touche Amore achieved what they set out to do with touring and their musical releases. There have been unexpected outcomes of touring, as well - touring abroad, establishing new relationships, and creating support systems with bands that have been long-time musical influences.

"Everything has been mind-blowing. We are on our favorite label (Deathwish Inc.) that have our favorite bands on it, and get to go places we've never been before. We're thankful."

Offering insight he doesn't typically state when interviewed, Bolm explains, "I feel we're one of the luckiest bands to have been able to do so much in such a short time. We've got to tour with bands that have influenced us and all of us have looked up to since our teenage years. We have a support system we can go to get advice."

"When I'm freaking out about something, I can get in touch with Geoff from Thursday or Jake from Converge. I have them as a support system for those situations."

"If we broke up today, none of us would be bummed at all. There would be mourning that we're not going to do this anymore. But we are so appreciative of what has happened already. If we expected anymore or wanted anymore, we would be ass*holes."

The appeal of Touche Amore: high volume, intense tempo, and straightforward lyrics.

Those elements have fans going wild. At times, Jeremy Bolm can barely be heard among the voices in the crowd singing along. Jumping on stage is nonstop when Touche Amore plays a venue without stage barriers.
And crowd surfing, well, that's a given.

Bolm talks about what attracts fans to the band, their message, and the Touche Amore show experience.

"It could be a number of things they're attracted to. A lot of the stuff written is straightforward - cut and dry confessional lyrics. I write about personal things I may be going through that they may be able to attach themselves to. I don't write in hidden meanings. I think that has a lot to do with it."

And on Touche Amore's message. "To be honest, we're not a political band by any means. If something gets me riled up, I'll write about it. Like on our first record, there's a song about pro-gay marriage. But politics are not something we are all about. I would say if our band broke up, we would want to be remembered as being as honest as possible."

"When we're playing a show without barriers, it's intimate. Kids are jumping off the stage and singing. We welcome it. It makes it more of a personal experience. Kids just want to be involved. It's pretty flattering."

And for all you hardcore ladies, don't be deceived by Touche Amore YouTube videos and what appears to be a male dominated presence in the crowd. When Bolm was asked about the female presence of his fans, he said, "It's pretty even. It's not male-dominated and we're pretty stoked about that. This kind of music should not be male focused. I get more excited when I see a girl crowd surf toward the front. I purposely try to reach out to them when I do see them."

With the touring and recognition they've gotten from the LA Times, Alternative Press, NPR, and other publications - there is bound to be challenges that the band must face. Bolm talks about obstacles that arise when touring, for the band collectively and for himself individually.

"We have gone through a couple of members. There's always going to be things you don't agree on. The band we are now - we've been strong for two years of the four. There are things that are stressful and weigh you down. The amount of touring is something we never had a problem with. Last year we were gone for nine months of the year. The year before that we were gone eight months. This year, we're on our way to doing it again."

"You feel more at home when you're gone then when you're here. It comes so naturally when you're in the van. It's nice to know whatever city you're going to you are going to see a group of friends there."

"The harder stuff is pressure on yourself when it comes to writing. For me, personally, when you have an audience with such an attachment, you can't let them down in a way. The goal is to start writing a new record. And I can't write the same stuff as last time. And musically, it can't be the same thing. Touring is rough, but has never been a problem. Putting pressure on yourself for upcoming releases is."

Bolm met another artist while on tour and was able to relate with his personal challenge.

"Andy Hull, of Manchester Orchestra, came out to one of our shows. We were both talking about how we're going to start working on a new record. We were talking about some of the same things. I am happier now then I was [when I wrote the last record], I'm not going to fake these sad lyrics. Andy Hull gave me some of the most on point couple of words I've heard in so long. It's nice to know other people are going through that, too."

Whatever the internal struggles may be, they are not evident on stage. The level of energy Touche Amore induces from fans is similar to that of hardcore punk veterans Snapcase, Sick of It All, Dillinger Escape Plan, and Refused. And while they look forward to their upcoming international tour to Australia, Southeast Asia and Europe, they are currently touring across the country with Circa Survive, Balance and Composure, and O Brother.

"This tour is really special. We are so proud to be part of it. No band has an off night. And Circa Survive kills it every night. I'm looking forward to the San Francisco crowd."

The tour is special for more reasons that one. Bolm attached himself back in 2001 to the former hardcore band Taken from California, with bassist Nick Beard of Circa Survive. "It's an extra level of special. And Anthony has become such a good friend to our band."

Touche Amore will be opening for Circa Survive this Thursday, October 11th and The Regency Ballroom.
If you're looking to check out the SoCal hardcore band, fast-paced songs that last on an average of 2 minutes, and experience the realness of this traditional style hardcore band, take the opporunity to do so because they're heading around the world before they visit the Bay Area once again.

Jeremy Bolm enjoys visiting as many record stores as possible when in San Francisco and the Bay Area - Amoeba, 1-2-3-4 GO! Records, and such.
And every now and then he'll get someone into the show for free if they take him around to the record stores. Keep an eye out on his tweets for that chance.