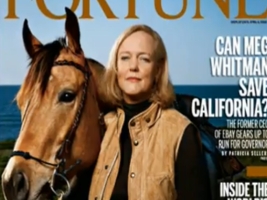 Look for this anti-Meg Whitman TV ad, just released by the campaign of her opponent Steve Poizner, to create a sensation. It jumps from real questions about Whitman's service as a board member at Goldman Sachs to trumped-up or not-yet-proven charges: Specifically that Whitman profited from the current fiscal crisis and specifically California home foreclosures. It's possible that's true, but we don't know nearly enough about her investments to say.
Another characteristic that should propel this ad to prominence: It stars an animal, the go-to metaphor of this election season in California (remember the attention created by the "demon sheep" in U.S. Senate candidate Carly Fiorina's ad).
The vulture is an apt metaphor for the sad shape of this campaign. Rather than offer clear solutions to the state's crisis of governance, they've been content to circle the sky and then swoop down on the weaknesses of their opponents. That's typical political behavior, but it doesn't seem to fit the times. This isn't 2002 or 2006. This is 2010 California, with weakened schools, persistent budget deficits and an unemployment rate among 12 percent. Whether this ad is true or not, Whitman isn't the only gubernatorial candidate who seems out of touch with California day-to-day realities.