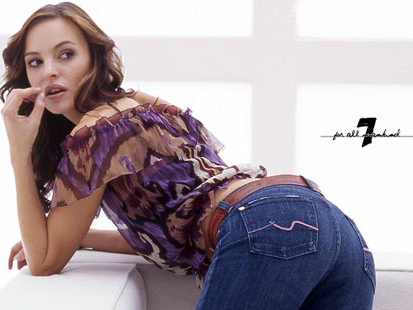 ULTRA SHINE: Everyone needs a little bit of flashy trashy in their lives, but so many shiny things come poorly made. If you'd like to invest in your glam, get this silver lame Bruce racer back tank from elizabeth charles.

JEANS JEANS JEANS: This weekend at the Grand Hyatt San Francisco, The Warehouse is having a mega-blowout denim sale for both men and women. Try not to get trampled. [SF Indie Fashion]

THE BIRDS AND THE...BIRDS: CaraLydon is selling this lovely Vintage Red Celluloid Bird Necklace. The swallows are perfectly symmetric as they share a kiss. There are no bees involved, but we all know what's going on.

IT'S AN ACCORDION!: Reasonably priced at Erica Tanov, it's an accordion. A real accordion. If you play it, you will be the most awesome thing on the planet. If your child plays it, they will be the cutest thing on the planet. Random, yes, but I bet you thought about getting it.

GIVE FROM THE HEART: FoxesAndRobbers has a great collection of hand-punched and inked gift tags. Santa stickers from the box are cute, but this Autumn Leaf tag takes your bread-maker/socks/fruit cake up a notch.